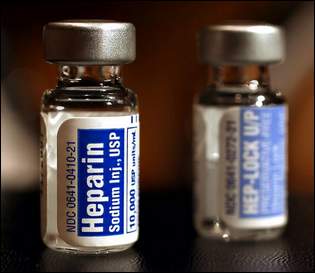 The FDA revealed yesterday that the death toll from counterfeit heparin rose from 19 to 62 over the last 15 months starting in January 2007. I had previously discussed this issue in the context of Baxter's potential liability for distributing counterfeit drugs (see, Counterfeit Heparin and Baxter Liability).
The 66 deaths come from a total of 103 deaths of patients taking the blood thinner. The 62 deaths resulted from allergic reactions or hypotensive (low blood pressure) events related to the counterfeits. The others would have been due to underlying medical conditions.
The FDA released a table of data showing that in 2006 there were 55 deaths from heparin users, but that only three were due to allergic reactions or hypotension as a medical event, similar events to the cases that prompted the heparin recall in 2008.
According to Baxter, however, only 38 deaths are attributable to their contaminated product and that four of those deaths were from unexplained allergic reactions.
The FDA is continuing to receive information on adverse events related to heparin, so this total is not expected to be final. As a result of all the publicity surrounding the recall, as well as the high-profile overdose of heparin to Dennis Quaid's twins, one would reasonably expect an increase in healthcare providers submitting adverse event reports to the FDA.
See also: