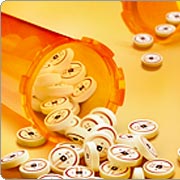 Counterfeit Drugs is the subject of a paper released today by the conservative American Enterprise Institute, entitled Bad Medicine In the Market.
The authors, Roger Bate and Kathryn Boateng, do a nice job of summarizing the problem of the dangers of fake drugs, which can find their way into anyone's home if there are weaknesses in the drug distribution system. The authors stop short, however, in suggesting any solution other than curtailing the use of generic drugs that had not been tested.
So with that, I'd like to remind readers of Tim Fagan's Law, first introduced by Rep. Steve Israel in 2005, and currently pending. Named for one of my teenage clients, who was injected in 2002 with counterfeit Epogen after an emergency liver transplant, it provides for the following to help plug up a porous supply chain through which counterfeits enter the mainstream distribution system:
Increases criminal penalties. The current federal law is three years in prison. Israel's bill increases penalties and includes up to life in prison.
Mandates that a manufacturer must alert the FDA of a counterfeited drug in 2 days. Currently, there is no mandate. The pharmaceutical industry has said that it would voluntarily tell the FDA about counterfeited drugs within 5 business days.
Provides the FDA with the authority to require companies to use anti-counterfeiting technology, as the technology becomes feasible and available.
Mandates that the FDA implement the paper pedigree rule that was mandated in 1988 and has been postponed for 17 years. It also closes the "authorized wholesaler" loophole and includes manufacturers as needed to start the pedigree.
Authorizes $60 million for spot-checking for counterfeits for each year between fiscal years 2006 and 2010.
Authorizes $5 million for each year between fiscal years 2006 and 2010 for educating the public and health care professionals on how to identify counterfeit drugs.
Provides recall authority to the FDA for prescription drugs. Currently, the FDA can only recall equipment and can only encourage private companies to recall their drugs.
Authorizes the FDA to issue subpoenas with respect to preventing threats to public health.
The law is spear-headed by Tim's congressman, Steve Israel. It would be nice to see the AEI get on board with this legislation, given its concerns over the issue.
Related links: