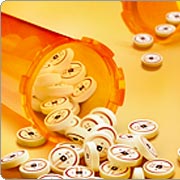 The issue of counterfeit drugs and the push for radio frequency identity tags is raised in the cover story of FedTech Magazine.
The article, which features my client Tim Fagan and his injection with counterfeit Epogen back in 2002, can be found here: Tag & Release.
This is the lede:
The Fagan family of Long Island, N.Y., thought they were out of the woods when their 16-year-old son, Tim, came through a lifesaving liver transplant in 2002. Yes, he would need to take immune-suppressing drugs for the rest of his life, but his prognosis was good.

Among the drugs in Tim's regimen was Epogen, an anti-anemia medication prescribed to help boost his production of red blood cells. Tim's mother administered a weekly injection of the drug, bought from the local branch of a national pharmacy. But hours after the shot, Tim would wake up screaming in excruciating pain. His doctors had no explanation, and no one would have guessed the cause was fake pharmaceuticals.

"The first night I thought someone had broken into his room and was attacking him," says Tim's father, Kevin Fagan. "It was a very emotional and very painful thing to watch our son suffer. To find out two months later that he was taking counterfeit drugs just blew us out of the water. We couldn't believe counterfeit drugs even existed."
For more on the subject, click on the counterfeit drugs label at this blog or visit my firm's Counterfeit Drugs Resource Page.