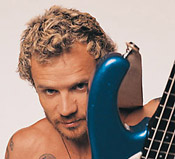 Pediatrician and med-blogger Flea, who had been chronicling his own medical malpractice trial regarding the death of an infant, has apparently taken down his site. Not just a few posts as he did last week, but the whole thing. My initial thoughts on the risks of his losing the privileged nature of his contact with his attorneys and the risks to his own insurance coverage if his pseudonymous identity were revealed, were first published in Medical Malpractice Trial Starting For Med-Blogger. He was believed to be the first person to live-blog his own trial.
Best guess from here? He told his attorneys what he was doing and their heads exploded due to the risks I had discussed. But win, lose or settle, I think we'll see his award-winning blog reappear when the litigation is over.
On a side note, posts can still be seen in my RSS reader, probably due to his having deleted them instead of "modifying" them. Had he modified (by simply by substituting anything else), I think that all RSS readers and caches would then have been updated to show only the new content. Something to think about if any of us wants to delete a post for any reason.
Addendum 5/31/07 – Doctor "Flea" Settles Malpractice Suit After Blog Exposed In Court