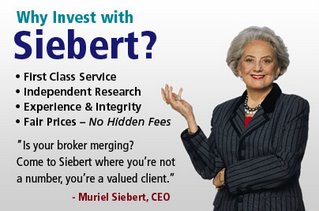 This case was about the extent to which an attorney can, during a lawsuit, contact the former Executive Vice President and Chief Operating Officer of a company and have a conversation with him, without counsel. The officer had been deeply engaged in the action before he left the company. The trial court had disqualified the law firm because "there was an 'appearance of impropriety' based upon the possibility that privileged information had been disclosed during the interview."
Not so, said the Appellate Division, a decision that was affirmed by New York's highest court late last week. The Court of Appeals held that the contact was not an ethical violation, so long as certain precautions were taken. Since the issue of contacting former employees comes up in a variety of contexts, the details are instructive.
Muriel Siebert, a discount brokerage, sued Intuit regarding a deal to jointly create and operate an internet brokerage service. A successful partnership soured when Siebert asserted that Intuit had failed to promote the internet brokerage service to its customers, and Siebert sued on breach of contract, among other things.
The officer in question, Nicholas Dermigny,
was both an important participant in the events at issue in the Intuit lawsuit and a member of Siebert's "litigation team" after the lawsuit began. He participated in the negotiations of the Siebert-Intuit agreement and discussions with Intuit relating to its implementation. He also assisted in drafting the complaint and responses to interrogatories, was privy to discussions concerning Siebert's litigation strategy, and engaged in privileged and confidential communications with Siebert's counsel.
Thereafter he left the company and Siebert informed Intuit that he could not be produced for deposition because they no longer controlled him.
So Intuit's attorneys contacted him without Siebert's knowledge and arranged for an interview. Before commencing the interview, Intuit's attorneys advised Dermigny that he should not disclose any privileged or confidential information, including any conversations with Siebert's counsel, or offer any information concerning Siebert's legal strategy. Dermigny was further cautioned that if, during the interview, he was asked a question that could potentially lead to the disclosure of such information, he should so advise Intuit's attorneys and decline to answer the question. Intuit's attorneys then questioned Dermigny about the underlying facts of the case, but did not elicit any privileged information nor inquire about Siebert's litigation strategy.
The ethics rule in question applies only to certain current employees of a party. The Court of Appeals made clear that ex parte communications with nonmanagerial employees are permitted, but adversary counsel are prohibited from directly communicating with employees who have the power to bind the corporation in litigation, are charged with carrying out the advice of the corporation's attorney, or are considered organizational members possessing a stake in the representation
Since the officer was no longer an employee, that rule didn't apply. Further, the Court held that that disqualification of defendant's counsel was not warranted since Intuit's attorneys properly advised Dermigny of their representation and interest in the litigation, and directed Dermigny to avoid disclosing privileged or confidential information. They also directed Dermigny not to answer any questions that would lead to the disclosure of such information. Dermigny stated that he understood the admonitions and, on this record, no such information was disclosed. Thus, there was no basis for disqualification.
The case is Siebert v. Intuit.