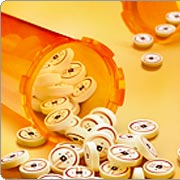 Bad news for prescription drug users out of California. The pharmaceutical industry has once again beaten back attempts at greater consumer safety.
The state had put together a bill to electronically track prescription drugs from the manufacturer all the way to the consumer, to insure that the supply chain was not infiltrated by counterfeit drugs. Every bottle of pills sold to consumers would be tagged. The plan was to go into effect on January 1, 2009, but according to today's New York Times, the drug companies have been given a two year reprieve. The electronic pedigrees were first supposed to have been in place on January 1, 2007, so this is the second delay that they have won.
Drug manufacturers and wholesalers complained that such safety would cost them money.
But if you think the battle for increased safety is over with the new date in place, you would be wrong. Pfizer is claiming they need another five to seven years, though they have somehow managed to put such practices in place for their high revenue drug Viagra.
And for those looking at the big picture of trying to determine when drugs will finally have documented pedigrees from manufacturer down to consumer, the first legislation on the subject was the Prescription Drug Marketing Act of 1987. That dealt with paper pedigrees and was never put into place.
So the industry has thus far succeeded in delaying for 21 years. And I'm guessing that 21 years from now we still won't have it. As Stan Goldenberg, a Los Angeles pharmacist and member of the state's Board of Pharmacy said in today's Los Angeles Times, "In 2011, they'll want 2013. In 2013, they'll want 2015. They'll keep the ball in the air until something bad happens."
And when something bad does happen (as it did to Tim Fagan), you can be sure, as sure as the lord made little green apples, that the drug companies will find ways to ask for immunity from the inevitable lawsuits. And they will try to blame "greedy plaintiffs' lawyers" for the fall out.
For more info: