In a post at Overlawyered, Walter Olson notes an article that says swings sets have been removed from a playground "in part because of lawsuits over injuries." A West Virginia school district had just settled a suit over an injured child for $20,000. The key words from the short blog post? "In part."
You see, an examination of the article reveals that the surface wasn't safe. So let me summarize this post before you read the rest:
Surface not safe
Child injured
Blame the laywers
Now let's pick up where I left off, with the second link; an editorial to the business-minded Investors Business Daily. After relying on a few anecdotes to support its position that lawyers are clearly to blame for children being miserable, the paper starts quoting "authorities":
"There is nothing left in playgrounds that would attract the interest of a child over the age of four," Philip K. Howard, lawyer and author, wrote in the Wall Street Journal in 2008.
And then there is similar quote from Olga Jarrett, a Georgia State University professor, from remarks given to (surprise!) a tort "reform" group:
She blames "a fear of lawsuits that makes some school systems and cities design playgrounds that are completely uninteresting to kids."
Oddly enough, my kids have no problem finding things that attract their interest on the playground, and they are clearly past the age of four. But then, my kids are looking to play, not looking to score political points in the debate over tort "reform."
The editorial says that "America's litigious society has changed the way kids play." Well, yes and no. They still use the monkey bars the same way. But they aren't doing so over a concrete surface, are they?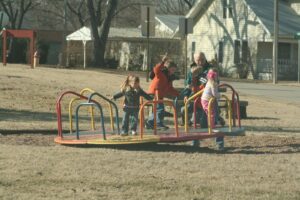 In the parks we've gone to over the past years, we've seen an abundance of swings, slides and things to climb on and scamper over.  I see happy faces running up, over and around equipment that was far safer than the public parks I went to as a kid. The only thing I see missing from my youth is the merry-go-round you stood on that others would spin 'round and 'round 'till you puked or were catapulted off onto the concrete. I know, some people liked to see their kids in danger.
Perhaps Investors Business Daily would like to return to the days of dangerous products, exploding Pintos, crippled children and Dalkon Shields. Perhaps. Unless, of course, the family member of one of the writers was hurt. Then, I'm sure, they would be singing a slightly different tune, like so many others.
Now about that photo of the kids on the swings  you see up at the top right?    That is a Turkewitz family photo shot by dad around 1967 in our backyard. I'm the kid in the red pants furthest from the camera, with my brothers and cousins scattered about. And note the soft surface my father installed. Even way back then we knew that you don't want kids playing on equipment over dangerous surfaces.