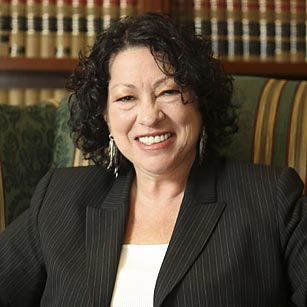 It's been bugging me since I saw it in the New York Times this morning: Sonia Sotomayor gave a lousy defense to an ethics charge over the name of her solo law practice, "Sotomayor & Associates."
To backtrack a bit, she had a home office that overlapped her tenures at the District Attorney's office and her stint at Pavin & Harcourt back in 1983-1986. Despite it being a solo practice, she called it "Sotomayor & Associates," which is misleading since the Times has now confirmed what I had guessed at a month ago: That there were no actual associates.
Here is the defense, as laid out by an expert that the White House apparently retained after my posting appeared: The authority for prohibiting the misleading firm name was merely "advisory."
That defense is — as defenses go when you are awaiting confirmation to the highest court in the land — just awful. I mean not just a little bit bad, but truly wretched to the point of embarrassing. From the Times article:
White House officials disagreed that the use of the name was a misstep, and they offered a written analysis by Hal R. Lieberman, a former disciplinary committee chief counsel in New York.

"Neither bar opinions nor cases to date have held that it was misleading for a sole practitioner to use the name 'and Associates' in such private communications," he wrote in an e-mail message. "In fact, in the early 1980s, no rule prohibited the use of 'and Associates' in these circumstances and the only authority regarding the use of 'and Associates' in an advertising context was advisory, not mandatory, and thus not readily enforceable."
After I wrote my initial post just hours after Judge Sotomayor released her questionnaire responses to the Senate Judiciary Committee, I dug a little further. I found an ethics advisory opinion from 1973 from the New York State Bar Association that was directly on point. It's in the comments part of that post, but it is worth reprinting here since this has now become an issue:
Opinion 286 — 3/16/73 (1-73)
New York State Bar Association Committee on Professional Ethics
March 16, 1973

QUESTION

May an attorney who employs two or more "associates" use firm name "John Smith and Associates"?

OPINION

While not the usual form, there is nothing improper in the use of the firm name "John Smith and Associates", provided that the lawyer or the firm has in fact two or more lawyer employees so that the name is not misleading. EC 2-10; EC 2-13; ABA 318 (1967); cf. EC 2-11; N.Y. State 45 (1967). However, where there are other partners in addition to those indicated in the firm name, it could be considered misleading to add, after the firm name the words "and Associates", unless on the letterhead the names of all the partners and, separately, the names of the associates are shown. (ABA 310 (1963).)
So what should Sotomayor have done back in 1983 when she had her own small firm operating out of her home? She had these choices, as I see it:
OK, what is past is past.What should she do now? While I hesitate from my tiny little perch in cyberspace to give advice to a Supreme Court nominee, I'm going to do it anyway in the event this comes up in the confirmation hearings or in other news articles.
Forget that crap from Hal Lieberman about there being no rule and the ethics opinion being merely advisory. You are not before a court of law but the court of public opinion. The rules said you can't mislead. You said you had associates and you didn't. End of story. You screwed that up.
Admit that you screwed it up. Don't try to lawyer your way out of it. Offer up the simple explanation: You were still in the D.A.'s office at the time and this was a small law practice that only a few relatives and friends even knew about, and you never even gave the name any thought. Yes, it was wrong. But it was done out of

inadvertence

.
The mistake was minor in the big scheme of things. If the ethics committee found out about it at the time it would have wagged its finger and said no-no, that's misleading, please change it. That's it.
Americans don't expect saints on the bench. Humans are fallible. It's OK to screw up once in awhile.
But don't trot out lame excuses. Don't try to lawyer your way out of this with being "advisory." That is something that people won't tolerate.
[Sotomayor tag now added for all Sotomayor posts]
Links to this post:
blawg review #220

welcome to blawg review #220, rounding up some highlights of the past week from around the legal blogosphere. it's my second time hosting it here at overlawyered, a blog that as its name implies maintains a certain critical distance

…

posted by Walter Olson @ July 13, 2009 3:40 AM




Tax 'Issues' For Sotomayor?

There is some question as to if Sotomayor may have some tax 'issue' about to bubble to the surface. Sotomayor had a private law office she named "Sotomayor & Associates", but there were no associates. There is nothing illegal about

…

posted by Andrew Berman @ July 08, 2009 6:15 PM




Two New Strikes against Judge Sotomayor

As a blog says, Sotomayor's defense give for using the name "Sotomayor and Associates" for her solo practice is weak. It's legalistic (that is, it evades the ethics question and makes it a question of rules) and it's wrong.

…

posted by Eric Rasmusen @ July 08, 2009 4:24 PM




And it rolls in further, a tide of hypocrisy and

dumbass rising. Obama in Moscow: Along the way, you gave us a pretty good deal on Alaska. Thank you. D'OH!!! The man is a Laff Riot!!! That's the way to "hit the Reset button", Mr. President. Remind the Russians of perhaps the stupidest

…

posted by Firehand @ July 08, 2009 3:31 PM




sotomayor "and associates"

when practicing a bit of law on the side during her time with the manhattan da's office and at a larger law firm, the nominee called her very small practice "sotomayor & associates" even though it had no lawyers but herself.

…

posted by Walter Olson @ July 08, 2009 7:20 AM




sotomayor & associates

[guest post by drj]. the new york times addresses sonia sotomayor's legal practice in the 1980's: "in her questionnaire, judge sotomayor says she was the "owner" of sotomayor & associates, which she described as a consulting business

…

posted by DRJ @ July 08, 2009 12:08 AM