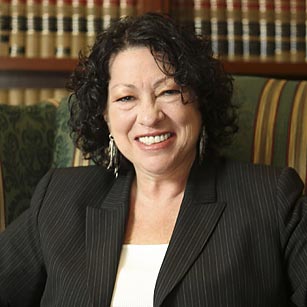 I was called yesterday by a member of the Senate Judiciary Committee's minority's legal staff regarding my postings on "Sotomayor & Associates" and potential ethics issues, and the subsequent New York Times article regarding the firm.
It probably comes as no surprise that Judge Sonia Sotomayor's small, solo practice is being investigated. The committee is not, after all, a potted plant. And this little law firm that Judge Sotomayor ran out of her Brooklyn home from 1983-1986 was unknown to the world until she submitted answers to an extensive questionnaire on June 4th.
What follows are the five issues that I believe they are exploring, based upon my conversation (plus one more from TaxProf), as well as some thoughts on why these items may well be the focus of some questions despite other matters being significantly more important:
1. Was she permitted by the District Attorney's office to have a side practice while still an ADA? In the Times article, long-time New York DA Robert Morgenthau said yes, though others have said no.
2. Did her new firm Pavia & Harcourt permit its lawyers to have an outside practice? As per the Times:
"It is news to me," Mr. Pavia said. He said she likely cleared the outside work with her direct supervisor, who is now dead.
3. Did Judge Sotomayor run her private clients' matters through the conflicts department of the new firm (or of the DA's office, while she was still there)? Even a simple house closing with a mortgage could conceivably be an issue if the DA or the firm had matters regarding the lending institution. A conflict check might be needed. While her direct supervisor at Pavia may have passed on, one would assume there would be a record of potential conflicts submissions if the firm was of any great size at the time.
4. Sotomayor & Associates was a clearly misleading name since there were no associates. Will this matter? If she never had stationery, and simply put the name on her tax returns as the NYT article suggests, it is likely moot. But if she did have stationary of any kind, it is an issue of minor interest. It's a minor interest, of course, only if she admits to having screwed up. But she'll get kicked around but good if she had letterhead and tries to claim (as the White House has suggested) that the ethics opinion forbidding such conduct was only "advisory."
5. Was Sotomayor & Associates registered with New York's Office of Court Administration? This is a mandatory periodic filing for all attorneys in the state. The Times wrote the following on the subject, but I believe they were wrong on the requirement:
She never incorporated Sotomayor & Associates or registered it as a business in Manhattan or Brooklyn, where she then lived, according to public records, though she was not required to do so.
In fact, it appears that attorneys were required to register with the Office of Court Administration, unless there was a rule change during those years. The registration form used today requires the name and addresses (plural on the form) of the law offices be given to our court administrators every two years. It reads as follows:
(e) The registration statement shall be on a form provided by the Chief Administrator and shall include the following information, attested to by affirmation:

(1) name of attorney; (2) date of birth; (3) name when admitted to the bar; (4) law school from which degree granted; (5) year admitted to the bar; (6) judicial department of admission to the bar; (7) office addresses (including department); (8) home address; (9) business telephone number; and (10) social security number.
Is there a difference between the forms used today and those used back then? Yes. Now there is more information required. But the requirement for all addresses is apparently the same.
How do I know what the mid-80's rule was? Because I pulled out my own registration form, which has an effective date of January 1, 1986. I saved everything regarding my admission because my bar exam results from the summer of 1985 had been infamously lost, making me a tad neurotic on the subject.
So unless there was a change in that particular rule from 1983 to 1986 — and this is possible since my form was dated 1/86 indicating that something changed; you can see the back of the form here: /OCA-Reg-Form1986.pdf — Judge Sotomayor messed up her registration requirements. What does that mean? Here you go:
Failure by any attorney to comply with the provisions of this section shall result in referral for disciplinary action by the Appellate Division of the Supreme Court pursuant to section 90 of the Judiciary Law.
It therefore seems possible, unless there was a change in the rules from 1983-1986, that Judge Sotomayor was practicing law out of her home without being properly registered there. While that would be wrong, it isn't a particularly big deal if she was registered elsewhere and her registration fee paid, as was no doubt the case. You need to do a helluva lot more than that to get in trouble.
But Judge Sotomayor should nevertheless be prepared to answer that question about the lack of proper registration. This is especially true since the Times article appears to have made an error regarding the necessity of registration. I suspect that error was based on information that came from the White House or the expert they retained to review the whole Sotomayor & Associates thing. (Alternatively, I'm wrong and there was a change in that narrow window of time.)
We have, therefore, a smattering of small issues. But small errors can become bigger ones when people try to fight them instead of simply acknowledging obvious mistakes. Given the lousy defense previously offered from the White House's designated expert on the subject of "& Associates," there is reason to be concerned.
So why is her moonlighting solo practice important? Because her extensive legal background is, from the standpoint of most of the Senators' constituents, a morass of legal nuances that lawyers love to debate but which the rest of the public is generally ill-equipped to quickly digest (summary here). But easy ethical issues like those mentioned above work well in a televised setting. And that makes it fodder for high-profile hearings where camera-hungry politicians hope to poke and prod and score the best quotes for the evening news.
In sum, Judge Sotomayor should be prepared to use the phrase, "I messed up," instead of "There was no controlling legal authority" to avoid these issues. And if she is as "wise" as she says she is, that is what she will do.
————————–
Elsewhere is item #6: At Paul Caron's TaxProf, guest blogger Linda Galler speculates that the law practice might have simply existed so that a home office could be written off on the tax returns.

Links to this post:
blawg review #220

welcome to blawg review #220, rounding up some highlights of the past week from around the legal blogosphere. it's my second time hosting it here at overlawyered, a blog that as its name implies maintains a certain critical distance

…

posted by Walter Olson @ July 13, 2009 3:40 AM




why eric turkewitz still matters

with regard to the issue of giving credit for discovering the "sotomeyor & associates" issue, eric turkewitz comments: something might be in the public domain, but it if is buried in a box of other documents, someone still has to go

…

posted by Mark Draughn @ July 09, 2009 11:48 AM