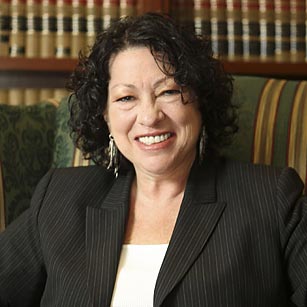 The mystery surrounding "Sotomayor & Associates" gets curiouser and curiouser. Still trying to figure out exactly what Judge Sotomayor was doing with this firm she ran from her home between 1983-1986, I dug into her questionnaire from her 1997 appointment to the Second Circuit, now available at the Clinton Library. (Box 0001, Folder 00003)
In that document, she gives her non-judicial legal experience as a state prosecutor (August, 1979 to March 1984) and as a civil litigator at Pavia & Harcourt (April 1984 – October 1992). There is no mention of a solo practice law firm under the name "Sotomayor & Associates." (See question 10, page 4).
But then she adds in "Sotomayor & Associates" in response to a request for non-legal positions (Page 8, paragraph 16):
Have you ever been engaged in any occupation, business or profession other than the practice of law or holding judicial or public office? If so, give details, including dates.

No, except advising and consulting family and friends as Sotomayor & Associates from 1983 to 1986.
So, was this a law related business as indicated in her SCOTUS questionnaire (p. 143) or a non-law business as set forth in her 2nd Circuit questionnaire?
And why aren't the answers consistent (especially for someone described as "meticulous")?
This little research project of mine, by the way, stems from little more than wanting to know what kinds of clients she had represented in private practice. Basically, I wanted to know if they were large corporations or regular people. I had discussed this a bit prior to Sotomayor's nomination in The SCOTUS Nominee and the Tissue Box Test.
But every time I take a peak at something related to "Sotomayor & Associates" I seem to end out with more questions than answers.
Updated: The New York Times now has dug up documents from Judge Sotomayor's 1991 appointment to the District Court that gives more regarding "Sotomayor & Associates," which appears contrary to the way the White House was downplaying it. The Times article says:
But documents released by the library of former President George H. W. Bush this week give the sense that White House, in 1991, when Judge Sotomayor was 37 years old, had a more formal view of the law practice as administration officials in Washington considered her nomination to the federal bench that year. [More at this link]
Links to this post:
blawg review #220

welcome to blawg review #220, rounding up some highlights of the past week from around the legal blogosphere. it's my second time hosting it here at overlawyered, a blog that as its name implies maintains a certain critical distance

…

posted by Walter Olson @ July 13, 2009 3:40 AM