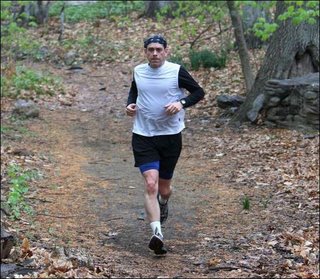 This isn't about personal injury law, but about a 1/2 marathon trail race I am organizing. Unless someone gets hurt and sues me, of course. Then it will be about personal injury law.
This is the virgin running of the Paine to Pain 1/2 Marathon Trail Race on the Colonial Greenway, in Westchester County just north of NYC on September 28th. It starts at Paine Cottage in New Rochelle and ends — after a spectacular loop of local trails in the areas of New Rochelle, Larchmont, Mamaroneck, Scarsdale and Eastchester — at New Rochelle High School across the street from the start. I wrote about this a bit in May when the local paper ran a story about one of the trails we will use, and used me for the story. (See: Me on the Front Page of the Sports Section (Again))
The point of the race, which will be an annual event after this, is to officially dedicate the creation of the trail system. It came together just this year, after about six years of work and numerous meetings with local officials.
Trail races are not something you generally see in the New York City area. In fact, there is nothing else like this in the whole metropolitan area. (And if you are interested, we are limiting it to 200 people this first year, so sign up quickly.)
But in putting the race together, I found myself confronted with the liability waiver issue. Every sporting event has one. And the vast majority are in unreadable gobbledygook that makes the eyes glaze over. Why use Ambien for a sleep aid if you can find legalese?
In deciding how to handle it, I first had to determine what the point of the waiver was. Is it to protect the organizers if someone gets hurt and sues, or to protect the event participants from getting hurt in the first place (or to write it in such horribly stilted language that insures no one will read it)?
Sadly, most seem designed to protect the organizers, despite the fact that such protection likely already exists under the doctrine of "assumption of risk."
So mine was written with the participant in mind, not the organizers. And it starts like this:
I realize that these trails have many rocks, roots, stumps and other tripping hazards. The course can be narrow, crowded and wildly uneven. Wet weather may create mud holes and fell trees and limbs that race officials and trail maintainers don't even know about.
That's the informing part. And yes, I did feel a need to put a touch of legalese in it, so I dressed it up a bit to make it readable, cribbing here and there from other releases that I found online that were made, thankfully, without letting a lawyer muck it up:
I therefore release and discharge all race officials, volunteers, sponsors and municipalities, as well as the rocks, roots and other stuff, dead or alive, gnarly or not, that might cause me to get seriously hurt.
But let's just hope that nobody suffers anything more than a few scrapes and bruises.
If you're in the NYC area and looking for an excuse for a long run in the woods, come run with me on September 28th.