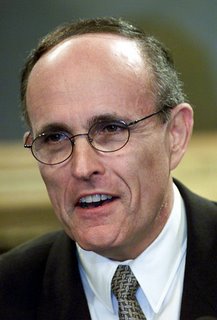 Rudy Giuliani unveiled his "Justice Advisory Committee" today, revealing that Randy Mastro, the Gibson Dunn attorney handling Robert Bork's slip-and-fall case against the Yale Club, is on the list.
Judge Bork — the former SCOTUS nominee, conservative favorite and tort "reformer" — has been widely ridiculed and lampooned for not just bringing a routine personal injury action for "in excess of $1,000,000" for injuries that appear to be rather limited, but having also asked for punitive damages. The original complaint also included flat-out frivolous claims for attorneys fees and pre-judgment interest, neither of which can be obtained in New York.
So this raises two questions for Giuliani: First, do you want someone on your Justice Advisory Committee that has not only just brought a case with frivolous claims in it, but done so on behalf of a tort "reformer?" Will this reassure conservatives, who are already skittish over Giuliani's social positions and have concerns about his judicial appointees if elected President?
And second, as I pointed out in Bork Amends Lawsuit, Keeps Claim for Over $1,000,000 Plus Punitive Damages, do you want someone picking judges that failed to draft a simple personal injury complaint, even when extreme caution was needed for a high-profile client? And then failed to correct all the errors in the amended complaint even after a hurricane of bad press? He was not only out of his depth on this case, but more importantly, apparently didn't seek adequate counsel on how to correct the mistakes. Will that type of throw-caution-to-the-wind conduct appeal to conservatives?
Mastro, by the way, is Giuliani's former Deputy Mayor. He might have fine political skills, and even have terrific skills in his particular areas of expertise. He might be a great guy to have a beer with. Having never met him, I wouldn't know. But having laid bare less than stellar legal skills in a routine case with a high-profile client, and having made frivolous claims in court on behalf of that client, is this the guy conservatives will want on a judicial selection committee?
See also:
Addendum: A few quotes from the piece Giuliani wrote for Pajamas Media linked above after the list came out, which clearly do not square with Randy Mastro's suit on behalf of Judge Bork:
"As President, I will nominate strict constructionist judges with respect for the rule of law "

"[W]e should reform the system by adopting rules that discourage frivolous lawsuits, such as "loser pays."

"We also need to establish limits on punitive and non-economic damages — which are too often used to turn the legal system into a lottery system."
Giuliani has now given a speech on the subject. More links:
(Eric Turkewitz is a personal injury attorney in New York)