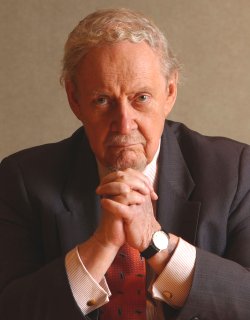 The New York Times weighs in today on Judge Robert Bork's New York personal injury case, skewering him for bringing the type of case that Bork, as a judge, would have derided.
Bork — a former Court of Appeals judge, Reagan nominee to the Supreme Court, and long time advocate of tort "reform" — sued the Yale Club on June 6th for "in excess of $1,000,000." I had previously described this run-of-the-mill slip and fall case with injuries that, based on the Complaint, won't even come close. Notably, he also asked for punitive damages, attorneys fees and pre-judgment interest, and his white-shoed attorneys have apparently little, if any, experience handling such matters. (Irony duly noted.)
The Times writes:
In an op-ed article, he once complained that "juries dispense lottery-like windfalls," and compared the civil justice system to "Barbary pirates."
…
We can imagine what Mr. Bork the legal scholar would ask if he had a chance to question Mr. Bork the plaintiff. If it was "reasonably foreseeable" that without stairs and a handrail, "a guest such as Mr. Bork" would be injured, why did Mr. Bork try to climb up to the dais? Where does personal responsibility enter in? And wouldn't $1 million-plus punitive damages amount to a "lottery-like windfall"?
It is also worth noting that Judge Bork, a conservative icon, is scheduled to be feted at The Federalist Society on June 26th, an event no doubt scheduled well in advance of the filing of the lawsuit. It is likewise worth noting that this suit has not been mentioned by any of the dozens of conservative columnists over at Town Hall, despite widespread ridicule heaped upon him (see links at bottom). One wonders how many more such honors Judge Bork will receive if those who celebrate him won't even rise to his defense.
Addendum 6/29/07 – Bork Amends Lawsuit, Keeps Claim for Over $1,000,000 Plus Punitive Damages