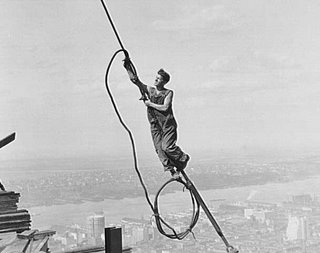 I was in my office on the 17th floor when I felt the building start to sway. I wasn't a happy camper.
Quickly jumping on Twitter I saw I was not alone, and within a minute or two I knew that today's earthquake was up and down the east coast. Then I waited for the damage reports. The injured. The dead. The collapsed buildings. I wasn't alone. Mayor Bloomberg put out a statement that read, in part, "our thoughts in New York are with those who were more directly affected by this natural disaster."
A 5.8 quake may not be too much of a big deal if you live in a quake zone and your buildings are designed for it, but we aren't known for moving the earth in such fashion. And so we waited for the information to come in.
And you know what? Nothing happened. There was no disaster.
Why? I'll tell you. We have pretty good building codes and labor laws. We have people that enforce them. That's our tax dollars at work, and working properly.
And I mention labor laws because they go hand in hand with building codes. One is designed for building safety and the other for worker safety. If builders think they can skimp on one if the laws are lax, then they probably think they can skimp on others. But they can't. Skimping ain't allowed.
Each year I go to Albany to lobby the legislature and each year our labor laws are fought against tooth and nail by construction companies looking to skimp on the safety of our laborers. We have strict liability here in New York if a company doesn't provide proper safety to the workers and the workers are hurt. And we therefore have few accidents relative to the size of the city. If it ain't broke, goes the old saying, don't fix it.
Today we saw government work. And we saw our safety laws work. In a day and age when screaming about slashing the budgets and laws is a popular topic, it's something to think about.