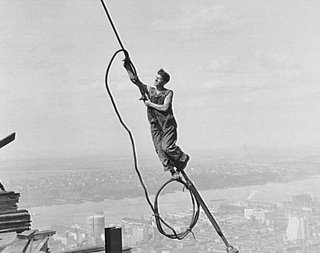 This piece is about the importance of New York's Labor Law for people who work at heights, but it starts in faraway Boston. It starts there because the story from the Boston Globe is shocking, and it should wake folks up to what goes on behind the scenes.
The basic story is simple enough: Jose Martin Paz Flores had a job taping drywall for Tara Construction. He fell off a ladder and broke his femur in March 2017. The injury required immediate surgery.
"But Paz — a father of five — could not get compensation for that injury because the company's workers' compensation insurance policy had lapsed."
What to do? The owner of Tara Construction, Pedro Pirez, decided to make the problem go away. Because the worker he hired — that father of five –was undocumented.
So he called a relative of his. Who was a detective on the Boston Police Department. Who gave the issue to a sergeant. Who is on the joint ICE/Boston Police task force. Who called ICE.
Then the wonderful Mr. Pirez — who his lawyer says is really "a nice guy" — called in his injured worker to give him $500 to help him along. At which time he was arrested by ICE. In front of his screaming 2-year-old child.
And that's how Mr. Nice Guy tried to make his little insurance problem go away.
Each year in Albany there are people who want to weaken our Labor Laws, which provide for absolute liability in favor of workers who are injured on the job site when they're working at heights, if a safety regulation is violated.
And each year there are construction and real estate concerns screaming that the liability should be shared if the worker was comparatively negligent.
The problem with that argument, as exquisitely laid bare in the Globe story, is that workers don't exactly control the workplace. There are a million ways a boss can retaliate against someone — not just against the injured worker but against a witness to an accident that might be helpful for the injured worker.
Does one guy really want to suffer at the job site to support his injured co-worker when his primary obligation is support his family and pay the rent?
While the Globe story goes on to cover different aspects of the complaint eventually made by the Department of Labor, and retaliation and OSHA, the underlying story of the vulnerable situation of workers is what interests me.
Oft times, these folks are at the complete mercy of their "nice guy" employers.
And so, if you happen to be a legislator that's reading this little corner of cyberspace, when the contraction lobbyists come a calling to weaken our safety laws, I hope you'll remember the powerless position of so many people that risk their lives to put up the buildings that we work and live in.