Harvard Law introduced today something called the Caselaw Access Project. All they did was take 360 years worth of American jurisprudence until 2018 and make it easily searchable by terms. Then you can see trends.
How extensive is the CAP web site?
Our scope includes all state courts, federal courts, and territorial courts for American Samoa, Dakota Territory, Guam, Native American Courts, Navajo Nation, and the Northern Mariana Islands. Our earliest case is from 1658, and our most recent cases are from 2018.
Just that. Pretty cool, right?
Given all the noise that gets made in the press about personal injury cases I decided to pop the phrase "personal injury" into the search bar to see how much of an impact my little corner of the law is having on the courts.
Two fast observations: First, as you can see from this graph for the years 1900-2019, the number of personal injury cases has been plummeting for the past 20 years: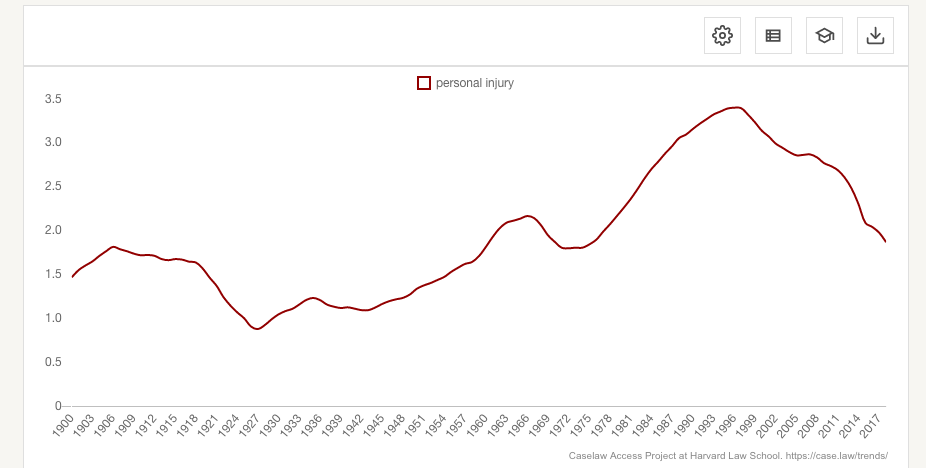 On the vertical axis to the left is the overall percent of cases in which the term comes up. On the bottom horizontal axis are the years, and you can set whatever years you want in order to find the trends. I used 1900 as my start date because I'm a sucker for round numbers. You can noodle with it and pick other years if you like.
When you go to the live site you get more data than mere screen grabs and can fine tune a bit. And for this we find that the peak year was 1996 when the term was mentioned in 3.4% of the cases. And that was at the peak.
Currently, personal injury is mentioned in just 1.9% of cases, a stunning drop of 44% in just 23 years.
You can also, if you like, look at the data in absolute numbers as opposed to percentages. You'll find a similar drop looking at it that way.
The drop is even more stunning when you use the word negligence (which obviously would be used more often due to a greater variety of circumstances). This time I ran the chart from 1800 until today so that you see an even longer term trend, from 14% to 6.4%, with peak use of the word in 1907: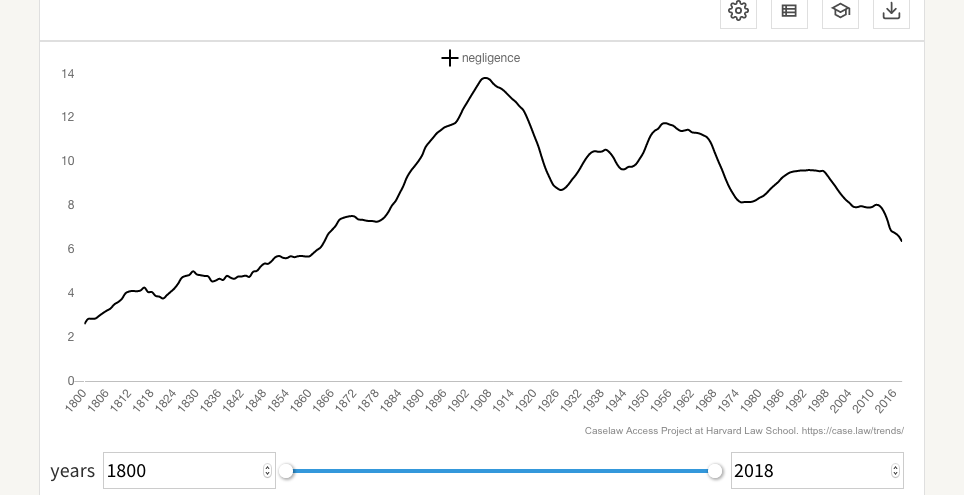 What are the reasons for the drop? I'll probably write more on that another day. But safer products, safer cars and safety laws such as mandatory seatbelts are likely to be contributing factors.
I speculated back in 2014 that the rapidly advancing tech that's being designed for self-driving cars would have that effect, as some of the tech finds its way into "regular" cars. I described how that happens earlier this year in discussing the death of the stick shift, in part due to safety technology.
One more graph for you, this showing how the number of injuries from car collision has also dropped — from its peak also in 1996. This from the National Highway Transportation Board:

Expect a wealth of analysis to come out of this new website as policy wonks look more intensely as to the trends in our courts. It would be easy to spend hours looking at this stuff. I spent only 30 minutes, but will return.
Quick pro tip for law students: Don't go into personal injury law.