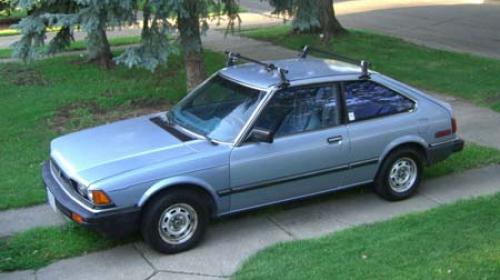 My first car was a 1982 Honda Accord hatchback. Five-speed stick. Roll down windows. Manual locks. No A/C.
I learned to drive stick when my older brother needed me to drive his manual transmission car back from Philadelphia to Long Island. I got a lesson on Saturday. And drove it solo out of Center City Philly to New York on Sunday. Only stalled once.
My theory in buying that no-frills Honda was simple: The fewer automated things, the fewer things would break. And nothing ever broke. It was a great car and I used it for many a trip back and forth to Buffalo during law school.
But cars and Manhattan are not a good match and when I moved there in 1986 it was time to kiss it good bye. When I needed a car I would rent one and those rentals were far cheaper than the cost of garaging it.
(Hang with me a bit here and I'll get to the safety and personal injury stuff.)
When I moved to the suburbs after 13 years of city living it was time to motor up again. But I had a problem, and part of that problem was a pipestem driveway. And Mrs. NYPILB (she loves that acronym!) didn't drive stick, didn't know from clutches, and didn't want to learn the three-pedal two-step. In twenty years of marriage that's the worst I can say about her so I figure I'm pretty far ahead of the game.
Having a two-car family and a pipestem driveway would mean constant car shuffling. I let the fun of driving stick slip away since my car was mostly going to the train station anyway. And that's just the way it was.
When Dear Daughter was old enough to drive, she followed in her mother's footsteps.
But Dear Son thinks differently. He's a car guy. Want to know what that car in front of you is? He'll tell you in two seconds based on the tail lights. At night. Ask him what he wants to be when he gets older and he'll tell you a McLaren owner. But he'll settle for a Lambo if he has to.
Until he started talking car stuff, I had no idea that tail lights could be an art. Or that there really was much difference. I was simply oblivious since I'm not a car guy.
So with the lease being up on my Subaru Impreza hatchback, I needed to go car shopping. But I confess that I love this vehicle because of its all wheel drive and the car's many safety features, which you can't dismiss when you're looking at teenagers. Dollar-for-dollar you get a lot of bang for the buck.
I took Dear Son with me to look at a couple of cars, including the next gen Impreza. Guess who wants to drive stick? Yeah.
But the salesman let me know the deal: If I want the stick and clutch, I can't get the Eye Sight Driver Assist. What's Eye Sight? That's the computer that not only beeps when you change lanes without signaling, but more importantly will automatically brake when a car or pedestrian is too close in front.
So if a car coming at you in the opposing lane suddenly makes the dreaded left turn in front of you, or a drunk pedestrian steps off the curb in front, the computer might well react before you. Split seconds can make a difference. Literally.
As you might assume from the bare bones '82 Honda I started with, I've never been one for tech features in a car — I'm the type that never uses the cruise control. Digital doodads don't light my fire. I want to drive a car, not be driven. And I think self driving features are dangerous because they promote inattention.
That's one of the things about driving stick — you can't be inattentive. Unless you are cruising on the highway you are constantly engaged. You'll never see someone driving stick and texting, or eating a hamburger, or even drinking coffee. Not in local traffic, anyway.
Most collisions (not accidents) happen due to driver inattention, and driving stick is the opposite of inattention.
But there's no getting around the fact that the Eye Sight Driver Assist is not only good tech, but tech that remains invisible until called into play. It's part of the wave of advanced safety features that are coming as car companies automate their vehicles.
It's part that same tech wave that will decrease traffic into emergency rooms, and the offices of personal injury lawyers. If you're in law school thinking this is what you want to do, I strongly suggest you make a sharp turn sooner rather than later.
That tech, however, is incompatible with a manual transmission. You can choose between a valuable safety feature — one that will become far more ubiquitous as the years roll by — or the fun and engagement of driving stick. But you can't have both.
Last year Motor Trend wrote that Subaru might kill the stick altogether in the name of safety. And Motor Trend wasn't the only one reporting the news of the likely demise of the company's stick.
(Another tech development that will help drive a stake through the stick is an app on your phone that allows you to remotely start your car minutes before you get there. When it's 100 degrees outside, or 10 degrees, that's going to be a valuable and desired feature. But manual transmissions get parked in gear, not neutral, and you can't remotely start a car that's in gear.)
Driving a manual transmission is not only fun, but a valuable skill. It allows you to feel how the car works, and be more engaged with your surroundings, even if you're clueless under the hood.
Manual transmissions have, of course, been declining in the United States for several decades, due to ease of use for the automatic. Manual transmission used to at least have the advantage of being cheaper engines and better on gas, but even that has changed. The computers on the automatic now get better mileage than you can with the clutch.
When you add up the long term decline of stick due to ease of use of the automatic, with the breakneck speed of technological safety improvement, you get a recipe for stick-the-fork-in-it-its-done.
In ten years the manual transmission, beloved by a decreasing percentage of car drivers, will be little more than a specialty item that needs to be custom ordered. It pains me to say it, but the stick is dead. Ultimately killed by safety.
Update, October 8, 2019: The stick, as per this story in Gear Patrol, moves one step closer to demise with this painful lede:
Subaru has announced its updated pricing and trim level changes for the 2020 Impreza. Tucked away in the press release, however, is a bit of bad news for enthusiasts: there'll be one fewer Subaru manual transmission option available as we move into the 2020 model year.
Ouch. And the reason is, as noted above, incompatibility with the safety tech of their Eye Sight computer safety stuff:
Development costs to add a new manual transmission are high. The take rates for them now are low. They have no place in an "electric" or "electrified" future and prevent universal implementation of Subaru's EyeSight safety technology.
And the Impreza is not, by any means, alone:
The Outback, Forester and Legacy have all lost their manual transmission options entirely. Even the base WRX could be CVT-only when the next generation materializes. (These developments should not surprise at a time where even the BMW M3, the ultimate driver's car, barely kept its stick shift.)
If you want to drive a stick, or make sure your kid(s) learn, you'd better do it sooner rather than later.