The pictures in this blog are real. They are not Photoshopped. It is not part of an Internet meme. It is not April Fool's Day.
Yes, that is my face on a billboard to your right. It is in Columbus Circle, in the Time Warner Center.
The first indication that my mug was staring out at others came Friday night, when my niece stumbled across it and texted me:
Am I crazy, or is this you?!
I assured her that the face — an ASICS ad produced in conjunction with the NYC Marathon — was in fact mine.
The first time that picture was used was on this blog, two years back, when I did an off-topic post on the race. ASICS then stumbled across it and asked for rights to the photograph.
It is the best picture ever taken of me, which I know because pics of me usually suck so my choices are limited. But this one was different. I was in the family reunion area after I had just run the race of my life at age 50. My eight-year-old son had borrowed a camera from my brother  (the same one with the  Antonin "There is no right to secede" Scalia letter). The lighting was overcast, which means perfect. The equipment was top notch, with great resolution. And I was looking down at a cute kid holding that big camera. He's the little kid in the orange and black jacket in this picture. I felt good. Click.
In late August an email came that I almost deleted as spam from Vitro Agency:
We are working on a project for the 2012 NYC Marathon on behalf of our client ASICS.  We are looking for inspirational photos of runners who have completed the marathon to use in some of our marketing materials for this year's race.  We found the attached photo on your blog and think it would work well with the other images we are using.
I thought it a joke but responded, and a deal was very quickly struck after a few minor edits to the contract. My son, who was the photographer, would get the money. Vitro was a lot easier to work with, I might add, than Oprah Winfrey. When Harpo Productions tried to license some x-rays that I have for an Oprah show, the negotiations were a comical disaster. Oprah, it seemed clear, suceeded despite the staff she'd hired.
I assumed my picture would be one out of a hundred that Vitro would kick around and ultimately reject in favor of others.  Boy, was I wrong. And I knew I was wrong when my brother called me Saturday night, just 12 hours before a trail race that I created was set to go, to tell me my face was on the side of a bus. A bus. He snapped the photo you see here. I was larger than life. My wife told me she had never seen me turn beet red before, as I looked at the picture my brother had emailed us. She and the kids were hysterical with laughter. As was I.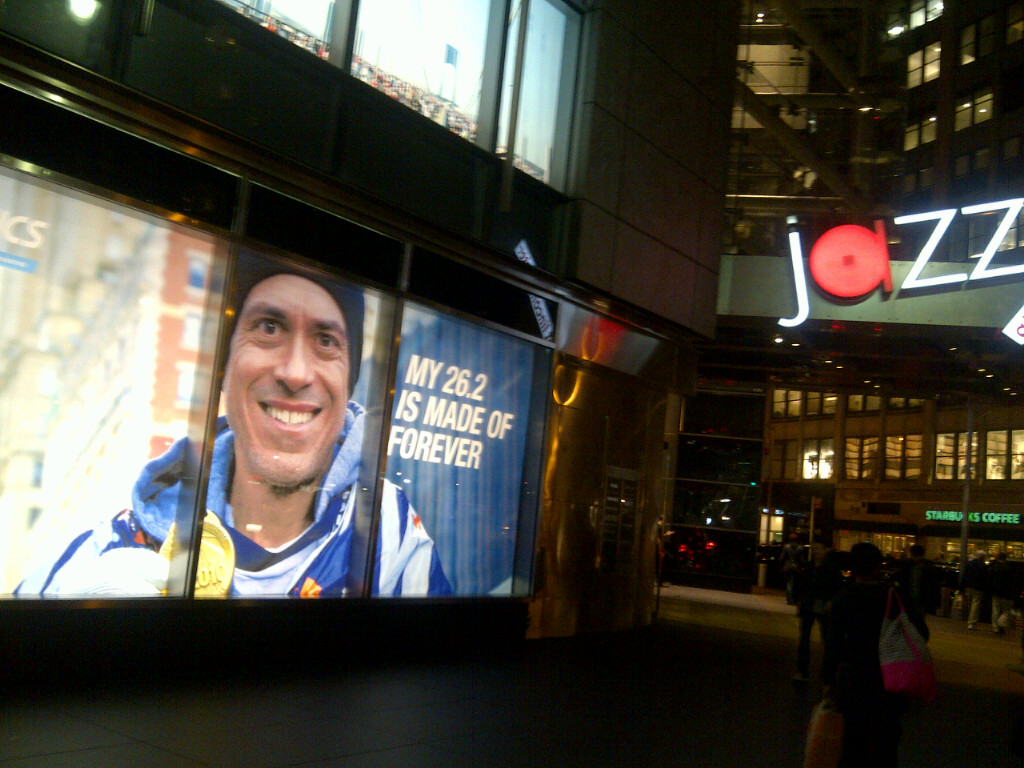 Further sightings have now occurred, another bus in Brooklyn and this much larger display in the Time Warner Center. Even if you wanted to draw a mustache on me, you would need a ladder to get there.
Mrs. NYPILB (she loves that acronym!) is now looking up in the air for blimps. She feels like she's in the middle of a Seinfeld episode.
The only remaining question is, how the hell we're going to get my swelled head out the door.
Update: OK, things just got a wee bit freakier. It seems my picture is now on the back cover of the New York Road Runner's marathon edition of their magazine. I've received word from several runner friends that it started landing in mailboxes today.  Can you imagine if I used Foursquare to "check in" at my locations?  I'm on 45th Street. I'm on 46th. I'm on 47th. I'm in your freakin' mailbox.
Andy Warhol once famously said that everyone would be famous for 15 minutes. But it's starting to look like I might get 16.
Update #2: I finally solved the perennial October question my kids have for me; what kind of Halloween costume will I wear to take them trick or treating?  Easy. I'm going as that guy on the side of the bus.
Update #3: I finally got a copy of the magazine. Frankly, this is a photo I never would have guessed I would be taking.