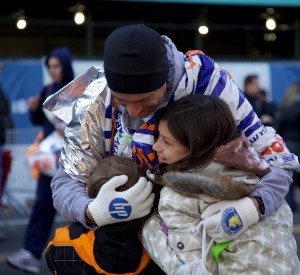 Bear with me as I deviate from the law, as I did the other day, at least until the end where I hit you with the answer to this lawyer-marathoner trivia question: Who is the most important lawyer in the country to run a marathon?
Now on to the race…
Want to know one of the best parts of running the New York City Marathon? For one day you get to compete, head-to-head, against the very best in the world. Same race track. Same weather conditions.
Needless to say, I got crushed. But this a sport where, if you get crushed by the best in the world, strangers approach you on the street to offer congratulations. And you'll feel good about it.  So long as you don't think about the muscle soreness.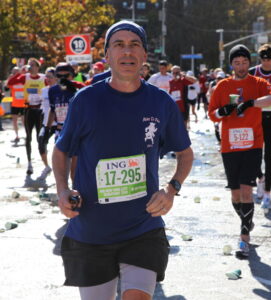 Will I ever get to play against the best baseball players in the world, in a real game? Will I play in the National Football League? NBA? NHL? Nope, nope, nope and nope.
But the NYC Marathon is both open to the public and draws the best in the world.  They get over 100,000 applicants, and yesterday over 45,000 people ran. Most get in (or lose out) based on a pure lottery system.
And the wonder of it all is that the crowds are out there cheering for the middle of the pack runners. Sweet.
We had crisp, cold weather in the 40s. That's as good as it gets. Huge crowds. A gazillion signs. And me determined not just to run the event, but to race it as hard as I could. Today, I feel the effects of pushing myself hard, particularly in the closing miles.
To all who came out to cheer or volunteer for the single greatest sporting event on the planet, this runner thanks you.
And the answer to the trivia question: Associate Supreme Court Justice Clarence Thomas ran the Marine Corps Marathon in 1980 in a time of 3:11. Thomas, it seems, had some pretty good wheels back in the day. From the linked ABC news article:
He wrote that he began to see it as a metaphor for his life: "You paid the price and suffered or you didn't." He wrote that when he ran the race, he hit "the wall," and believed his legs would give way. He whispered over and over to himself, 'never quit, never quit, never quit' and barely made it to a water stop staffed by a young Marine.

"God, this is hard," Thomas told him.

"That's what you asked for," the Marine replied, without a trace of sympathy.
Updated: Zoe Koplowitz has now finished the marathon, 35 hours, 27 minutes after it started. She came in dead last. Again. In 22 marathons, she always comes in dead last. She runs with multiple sclerosis. Using crutches. Accompanied by Guardian Angels through the night. Something to think about the next time you face a challenge. Of any kind.
Some other NYC Marathon links/photos:
20 Funny Costumes From the NYC Marathon
NYC Marathon 2010: Faces at the Finish
New York Road Runners Slide Show
NY Post video story on YouTube
She Got Her Gold. More Important, She Earned Her Gold
Time lapse photography of the runners streaming over the Verrazano (YouTube video)