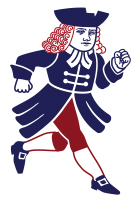 I looked in my RSS feed and saw 4,000 unread posts. Yeah, I know that's a lot.  If the blogosphere thinks I fell off the face of the earth because my posts are a bit less frequent lately, I assure you that those in my community know otherwise.
For this Sunday is the Paine to Pain Trail Half Marathon, which I founded and for which I'm the Race Director. And as we come down the home stretch in planning, I find myself sorting through a thousand details and talking with a thousand people to get those details nailed down.
In other words, it resembles, to some extent, planning for a trial. Trial lawyers love to talk about tactics and fancy cross-exams, and who hasn't fantasized about the perfect summation?
But in reality, a trial is the culmination of a thousand different details dealing with subpoenas, medical and employment records, documents, diagrams and demonstrative evidence, difficult evidentiary matters, lists, lists and more lists, and the godawful misery of trying to work around the schedules of the experts.
And lists and details are what I also deal with regarding the race.  I have hundreds of people showing up from 12 states, and I need my finishers medals, shirts, sponsor stuff, food, water, timers, medical personnel, 100 volunteers, and 13 miles of little flags laid through the woods, all in the right place at the right time. Details, details, details.
They ought to give a class in law school called "event planning." It would have a thousand different applications both in law and life.
When I wrote about this race two weeks ago, I noted that:
I've met a lot of people. Not the meet as in I'm-following-you-on-Twitter meet, but as in hundreds of  real people in my own community knowing me as a person.  I didn't create the race as a form of networking, of course, but when people get involved in community events it is a natural by-product.
So on Sunday, I'll have followers. This will be in the literal sense to the extent I can move my feet faster than they can move theirs, and in the figurative sense to the extent I'm showing them a new trail system.
I won't get a single new Twitter follower as a result of this race. But I do hope to have hundreds of exhausted and happy faces at the finish line who have become new friends and acquaintances.