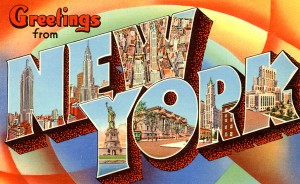 Big Tobacco sues Big Apple. Can New York City force stores to put gruesome anti-tobacco posters up?
Will the BP oil spill hit New York? A computer simulation shows how the oil sweeps up the east coast (fast!) after it passes around the Florida Keys. And if it ruins my beach vacation this summer, can I sue? 
New York City pays $10M to a man framed for murder. Will they make a movie about how it happened?
A New York judge gives tips on  how to write a brief. If you want to lose;
New York law blogger Niki Black is tired of spam from lawyers. And now she is naming names. Welcome to the club;
And super New York law blogger Scott Greenfield does something rare. He discusses himself. And a psycho cyber stalker;
Did curvaceous New York banker  Debrahlee Lorenzana get fired for being too sexy? Or do you think, as I do, that her lawsuit over it is merely a publicity ploy for a modeling career?
I thought I was pretty good when I proposed to my wife on New Year's Eve on a boat in the Galapogos after a day snorkeling with sea lions. But this proposal in Madison Square Park puts all others to shame. Epic. Hey, marriage has plenty of legal angles to it;
Bat Masterson. Federal Marshal.  Southern District of New York. A New York Times story. Go ahead, click that link, you know you want to;
But that Bat Masterson article reminds of of another one — the time Masterson met future Supreme Court Justice Benjamin Cardozo in a courtroom showdown, with Cardozo as defense counsel when Masterson sued for libel after an article said he: 
"made his reputation by shooting drunken Mexicans and Indians in the back."
From the New York based Above the Law: Lawyers are taught to fight. But choking a prosector?
And a rare reversal of a mult-million dollar verdict in the Bronx. Based on the improper dismissal of a juror.