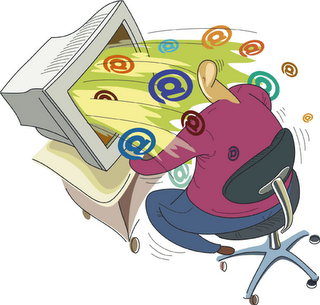 I'm getting tired of seeing spam in the comment area of my blog that comes from law firms and attorney search services. So if it comes in again I'm going to write a fresh post about them. I've done this a couple of times before but now I'm going to make a policy of it.
While I expect this nonsense from the drug hustlers (findrxonline seems to love spamming me) and the gold sites and others, I don't see that I can really do much about them except keep the comments moderated and simply reject them.
But law bloggers can do something about the law field spammers. Because unlike the other sites, these folks generally have very little Google juice and should actually care about their reputations. So if a few blogs decide to out the spammers, this could have a pretty big effect on the firms. When their names are Googled by potential clients, the potential clients will see that they are spammers. And it will no doubt cause them to stop.
If it is the crappy search engine optimization companies that they hired that are doing it on their behalf, without their knowledge, then the attorneys will still suffer. Lawyers are responsible for the acts of their agents.
I came up with this little rule about lawyer advertising when it comes to solicitation, but it applies equally well here:
Perhaps, if enough bloggers do this then the lawyers that get busted for this kind of slimy stuff will fire the people responsible. And if enough SEO companies are fired by their clients for having done this in their name, then the tactic will be used less often. I'm not so naive as to think it will stop, but if it gets cut in half that would be a huge victory.
You've been warned.
Addendum: The spammers are not just hired by free-standing marketing companies devoted to search engine optimization, but have been hired in the past by attorney search services both large (Martindale-Hubbell) and small (LegalX).
These are some of the blogs that seem committed to outing the malfeasors, in hopes of cleaning up the lawyers' part of the web so that our collective reputation doesn't sink further:
I'll continue adding to this list as I become aware of other posts on the subject. Links to this post:

Blawg Review #241

Back on 7 December 2005, I posted under the title "Pearl Harbor Day Trivia" a throwaway comment about President Franklin Roosevelt's famous "Day of Infamy" speech: December 7, 1941 was immortalized the next day in a speech by President

…

posted by Colin Samuels @ December 07, 2009 3:00 AM




Outing Blog Comment Spammers, Starting with All States Public …

Over at the always excellent New York Personal Injury Law blog, Eric Turkewitz has adopted the policy of outing law firms' blog comment spammers and their clients. Comment spammers troll the Internet and drop poorly written and usually

…

posted by Roy A. Mura @ December 03, 2009 10:21 AM




Sixteen Rules for Lawyers Who (Think They) Want to Market Online

1. If you're looking for The Promised Land, you're in the wrong place. This is the Wild West, Pilgrim. 2. There are clients online—sophisticated, moneyed clients—but they don't find lawyers the way you think they do.

…

posted by Mark Bennett @ November 16, 2009 10:15 PM




Blawg Review #238: Celebrating the International Day of Tolerance …

"We tend to idealize tolerance, then wonder why we find ourselves infested with losers and nut cases. — Patrick Nielsen Hayden "I have seen gross intolerance shown in support of tolerance." — Coleridge. Cue the music.

…

posted by Joel Rosenberg @ November 16, 2009 1:00 AM




posted by Patrick @ November 06, 2009 4:15 PM