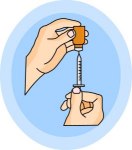 Cape Cod Hospital has reported that a drug wholesaler approached it trying to sell purported flu vaccine for 8x the normal price. But in addition to profiteering during a vaccine shortage came this notable news: The wholesaler refused to say where the drugs came from.
The article in yesterdays Cape Cod Times (for which I was interviewed and quoted) should sound the liability alarms throughout the pharmacy community. For if the wholesaler won't say where the drugs come from then they cannot be authenticated. A pharmacy that buys such product is therefore merely buying mystery medicine. Perhaps it came from a bona fide manufacturer, or perhaps the "drugs" originated in a Chinese factory that makes counterfeits, and the "medicine" has already changed hands a dozen or more times.
The sad truth is that we do a lousy job tracking pharmaceuticals and have a large gray market of secondary wholesalers. The pedigree of a drug — its chain of ownership from the time of its manufacture — is critical to determining the drug's authenticity. But if the pedigree is hidden, as with the case of the flu vaccine offered to Cape Cod Hospital, there is no real way to know what is within the packaging thereby opening the door wide to injury and death from the product.
So make no mistake about it: Any pharmacy that buys such mystery medicine will be responsible if the drug isn't the real deal. And I don't think it would be a situation of just being responsible for the injury or death that occurs, but that a good case could be made for punitive damages for conduct that I view as clearly reckless. The problem of counterfeits within the pharmaceutical chain has been widely documented, and all pharmacies are duty-bound to be on high alert for suspicious activity.
I was interviewed for the piece last week as a result of my prior representation of Tim Fagan, a Long Island teen who had been injected in 2002 with counterfeit Epogen after an emergency liver transplant. Representative Steve Israel introduced Tim Fagan's Law as a result, to toughen penalties against counterfeiters, and the FDA broader power to investigate, conduct recalls and spot check the market for counterfeits. (You can read more on it at the counterfeit drugs resource page at my web site, or by clicking the counterfeit drugs tag here.)
Cape Cod Hospital, to its considerable credit, refused to deal with the wholesaler. My only regret is that the company was not named so that others would know to be on the lookout for them.
Updated 11/12/09: See also Gray Market: I'm Not Dead Yet (Adam Fein @ Drug Channels)
Links to this post:
Health Wonk Review

Welcome to the Health Wonk Review. 2009 has been an exciting year for health care reform, and last Saturday's passage of HR3962, the Affordable Health Care for America Act, has given us plenty to talk about. For anyone who hasn't kept

…

posted by Louise @ November 12, 2009 2:58 AM




Grand Rounds Vol 6. No. 7

Hello and welcome to this edition of Grand Rounds! As I contemplated the possibilities for a cheeky theme and wracked my brains for something pithy or unique, my thoughts consistently fell on the fact that tomorrow is Veterans Day in

…

posted by Emily @ November 10, 2009 6:02 AM