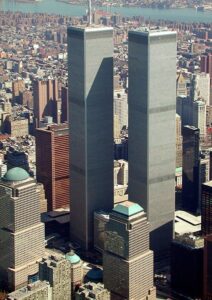 A furious fight over legal fees that erupted from the World Trade Center Disaster Site Litigation returned to public view yesterday. That litigation had resulted in a complex settlement with a range of  $575M to $657M for responders sickened in the aftermath of the September 11 attack. Judge Alvin Hellerstein rejected that agreement in March, however, for some 10,000 responders, claiming that the 33% legal fees that plaintiffs' counsel was to receive was excessive.
In  an angry  letter yesterday to Judge Hellerstein, Paul Napoli of Worby, Groner, Edelman & Napoli, disclosed that the firm will voluntarily reduce its contracted legal fee from 33% to 25%, despite doing almost all of the heavy lifting on the plaintiffs side of the protracted and expensive litigation. In doing so, they asked why others were not also being asked to cut their fees.
The letter became public when it was electronically filed, in response to a letter from Kevin Russell of Howe & Russell, who had been hired as plaintiffs' appellate counsel on issues related to defendants' claims of immunity. [Updated: The letters, apparently, were sent to the judge but are not in the public file. They appear here for the first time.]
Howe & Russell, whose practice is geared toward Supreme Court litigation, wants to be paid in full, regardless of what happens to Napoli's firm.
In March, Judge Hellerstein indicated in conferences that despite the "extraordinary" and "productive" work Worby, Groner,Edelman & Napoli had done in representing over 9,000 clients in this expensive and risky litigation, that the plaintiffs attorneys' fees were nevertheless unreasonable and likely to be cut by the court. As a result of the judge's comments in open court, the firm reported in an April 9th letter to the court that the firm was  "savaged in thousands of publications – not just in New York, but indeed throughout the country and around the world."
Plaintiffs lead counsel, the letter states, spent over $30 million of its own money in moving forward on a case  that had been rejected by many.
Yesterday's letter goes on to state that the firm would voluntarily cut its fee to help get the matter resolved, at great cost, but that the court wasn't asking anyone else to do the same:
[Y]et despite this Court's repeated references to the unique nature of the underlying facts and genesis of the plaintiff's claims herein, not a single person or entity other than the [Plaintiffs' Liason Counsel] and "plaintiffs' counsel" by extension has been "asked" by this Court to cut their fees or forego any part of the compensation they contracted for before undertaking the work done in these matters.
Notwithstanding that, in an effort to have this matter settle, the firm wrote:
For the record, although this Court is likely already aware of the facts, we anticipate voluntarily reducing our attorneys' fees at the Court's insistence on a number of matters where we are unquestionably entitled to charge the clients for our time and efforts under New York law. In truth, so should the fees of defense counsel and every other consultant and vendor involved. Thus far, we expect that we will voluntarily forego some $85 million in attorneys' fees if an amended [settlement agreement] is ultimately consummated. …

At the same time, this Court has neither suggested nor indeed directed that any other entity involved in this massive litigation forego any part of their contracted-for remuneration in favor of the plaintiffs.
The anger in yesterday's letter results not just from Judge Hellerstein's decision to cut the firm's fee, but because no one else was asked to cut their fees, even if substantial.  According to the letter,
The financial reports of the WTC Captive Insurance Co., Inc. reveal that as of the end of September 2009, the Captive had paid out some $165,149,165.00 in defense counsel fees, including $119,071,113 paid to Patton Boggs as lead defense counsel,  $6,168,584.00 to coverage counsel and $39,909,468.00 to "other defense counsel."
The firm has written that, if they are forced in to a fee reduction, then all others should likewise do so, including Russell, referring attorneys, and others. The firm wrote that they will ask for an order stating that:
"The reduction of said attorneys' fees shall be borne equally among any law firms who share in said attorneys' fees (e.g., referral attorneys, co-counsel or any other counsel legally entitled to a share of the said recovery)".
Russell was ripped by Napoli in the letter for making the issue public, and accused him of doing so in an attempt to get others to likewise dump on Napoli's firm. Napoli wrote:
[W]e were very dismayed that Mr. Russell felt the need to voice his concerns about the allocation of the plaintiffs' attorneys' fees and his individual attorneys' fee agreement with our firm in so public a fashion rather than writing to this Court and simply copying our office.  Nonetheless, given the public outreach to this Court by Mr. Russell and the result he obviously intended, i.e., that his complaint will be joined by every other plaintiff's attorney who was copied on his communication to this Court, we are compelled to respond in an equally public manner.
Howe and Russell was formerly Goldstein & Howe, before founding partner Tom Goldstein (founder of SCOTUSblog) moved on to Akin Gump.
Two other points before I weigh in with my opinion: While the letter indicates notice to the many people involved with the litigation via electronic notification, I couldn't find this letter or the one from Russell on PACER. I obtained this letter from another source. If someone has the Russell letter, please share a copy and I will update this post.
Update: I now have the Kevin Russell letter. Rather than stand by his co-counsel, Russell is trying to throw them under the bus:
We are aware that your honor has expressed dissatisfaction with the contingency fee agreement co-liaison counsel negotiated with the plaintiffs, and is considering abrogating those contracts in order to ensure a greater recovery for the plaintiffs and to preserve adequate funds for future claimants. Those concerns are not implicated by our contract, which requires co- liaison counsel to pay our fees out of whatever funds they may recover….

We had not understood your honor to be contemplating abrogating the fee agreements among plaintiffs' counsel. For example, we have had no reason to believe that the Court was considering altering the division of fees among the lawyers and law firms comprising WORBY, GRONER, EDELMAN & NAPOLI BERN, or abrogating the hourly fee agreements co-liaison counsel may have entered into with other outside lawyers to provide discrete advice or services to them.

However, we have recently been advised that our understanding may be mistaken. If that is so, and if the Court is contemplating abrogating our contract with co-liaison counsel, we respectfully request notice of that intention so that we may be heard on the matter and take any procedural steps (such as intervention in the case) necessary to preserve our ability to appeal any such order.
So there you have it. The court seeks to abrogate the contracts that Worby, Groner, Edelman & Napoli have with their clients — on what legal basis remains a mystery — but Russell thinks it shouldn't apply to his firm.
Second, an order by Judge Hellerstein yesterday seems to indicate that a settlement may be near, as "intensive negotiations" continue, and he extended a deadline for motion practice. A copy of that order is here: Hellerstein-5/27/10-Order
My opinion: I think the court's idea of cutting the firm's contracted legal fee is a disgrace when no such pressure is put on others. This firm took the risk of untold thousands of hours of work with thousands of claimants and tens of millions of dollars of their own money, none of which would be recovered if the case was dismissed or they lost at trial.  They took a case that few were willing to undertake.
They don't deserve to be cut off at the knees by the court, and in the process set a miserable precedent for future cases. It isn't up to the court to legislate its own version of tort "reform" to discourage others from taking difficult or expensive cases in the future with the fear that their fees will suddenly be cut at the end.
If the courts decide to legislate away the contingency fee by eviscerating it, those with meritorious cases that also happen to be complex will  be unable to find counsel. We've seen that here in New York when the medical malpractice legal fees were slashed in the mid-80s, leading many people unable to find representation.
With respect to Howe & Russell, they should be embarrassed by their conduct. The people that hired them have unexpectedly had a gun placed to their head by a court that is dumping the contracted retainer agreements. Their fee should move in lockstep with any fee cut that the court is forcing down the throats of lead counsel.
Howe & Russell could easily see backlash from its conduct, as others become reticent to hire them. And that is the way it should be. There is no shortage, after all, of talented lawyers willing to argue cases to the Supreme Court.
If the court wants to enlarge the pot of money available to the injured claimants beyond that which the lawyers were able to recover, let it also ask the defense lawyers to cut their fees. Ask Patton Boggs and others to give back $85 million of their (guaranteed) fees. Then ask the court stenographers, special masters, mediators,  consultants, adjusters and everyone else, to give back a portion of their fees as well.
It is unreasonable, and outrageous, to ask the one firm that shouldered the risk and expense of the litigation — and miss countless family functions because the court wanted to hold the lawyers' feet to the fire to move the case forward — to bear the brunt of lowering costs to increase the pool of money available for the claimants.
Update: The Russell letter that I now have indicates that his firm's agreement was to get 1/2 of one percent of the legal fee. If the 1/3 fee still applied, that would result in an approximately $200M plaintiffs' fee (leaving aside the expense issue) and a $1M fee for Howe & Russell. That works out, at $750/hr, to 1,333 hours of work to argue the immunity-related motions and appeal.
I suspect that they didn't put in those kinds of hours, of course, but they won and are therefore entitled to be paid well. The nature of the contingency fee is that without the hope for payment, no rational attorney would undertake the risk. The lawyer lives and dies with that risk.
But there is no logical reason, if they are joined at the hip with Worby, Groner, Edelman & Napoli, that Russell should think his firm will escape taking a hit on the fee if the others are forced to do.
The Russell letter, wherein he throws his co-counsel under the bus, is truly an embarrassment to the profession.
Update #2: Just moments after I edited this piece with the letter from Russell, Judge Hellerstein has rendered an opinion, which I've put in a new post since this one is getting lengthy: Judge in World Trade Center Litigation Says Howe & Russell Fees To Be Cut
Update #3, 6/10/10: Massive September 11 Case Settles (Again) — Additional $125M Added to Settlement