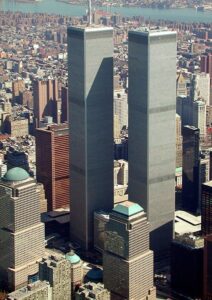 It didn't take long. And Kevin Russell of Howe & Russell isn't going to be happy.
Just moments after I updated my prior post on the dispute over the legal fees for plaintiffs' counsel in the World Trade Center Disaster Site Litigation — where appellate counsel Howe & Russell complained they shouldn't have their fees cut the same way every other plaintiffs' attorney is  being cut — Judge Alvin Hellerstein has responded.
Russell lost. Judge Hellerstein made clear that his comments back in March regarding a reduction in contingent fees applies to them the same as with all other plaintiffs' lawyers. He anticipates a reduction in fees — a reduction from 33% to 25% seems to be what will happen — will "improve the benefits flowing to the plaintiffs by reason of any revised settlement agreement."
Judge Hellerstein, of course, demands that such reduction only be on the plaintiffs side. The defense lawyers, led by $119,071,113 paid to Patton Boggs, need not make any reduction. The authority for demanding such reductions remains a mystery, given that the court is interceding into legally binding retainer contracts.
OK, here is the order, hot off the presses, and so fresh some of the recipients probably still haven't see it in their email….
ORDER. This order responds to the letter of Howe & Russell, P.C., dated May 26, 2010, asking if my comment at the hearing of March 19, 2010, concerning contingent fees of plaintiffs' lawyers applies to them. I intended my comment to apply to all the plaintiffs lawyers who might be sharing in contingency arrangements. I anticipate that reductions in such fees, if proposed to improve the benefits flowing to the plaintiffs by reason of any revised settlement agreement, are proposed on behalf of all lawyers and law firms expecting to share in the fees chargeable to plaintiffs or collected from plaintiffs' recoveries. If any attorneys decline so to be governed, they will have to apply to the court for appropriate relief. Relates to 21mc100, 21mc102, 21mc103. (Signed by Judge Alvin K. Hellerstein on 5/28/10) (rjm)
I wrote this morning that the conduct of Howe & Russell in trying to distance themselves from their co-counsel was an embarressment to the profession, and that there was no logical reason for the firm to believe they would be treated differently than other plaintiffs' firms. They took the matter on contingency, and now they live and die with that decision, the same as this end of the profession has done for generations.
Will they "apply to the court for appropriate relief"? They have threatened to do so. In his letter to the judge Russell wrote:
[I]f the Court is contemplating abrogating our contract with co-liaison counsel, we respectfully request notice of that intention so that we may be heard on the matter and take any procedural steps (such as intervention in the case) necessary to preserve our ability to appeal any such order.
We'll see. If they do this, of course, it puts the judge in the position of having to give a formal ruling on his authority to cut any of the contracted fees.
Updated 6/10/10: Massive September 11 Case Settles (Again) — Additional $125M Added to Settlement