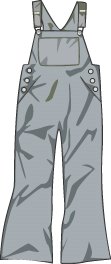 Roy "Pants" Pearson, who infamously sued a dry cleaner for a lost pair of pants for $65M, only to reduce it later to $54M, and still managed to lose for some reason, has lost again. This loss was in the US Court of Appeals regarding the loss of his job. He claimed he was denied reappointment because of his complaints about the peer review system in place at the D.C. Office of Administrative Hearings. You can read more details here: "Pants Judge" Pearson Loses Appeal in D.C. Circuit.
While it's tempting to crack jokes and endlessly take rhetorical spins on pants suits and whatnot — I leave the to Kevin Underhill, see Judge Who Lost Pants Forced to Rely on Briefs — the fact is that this is a very serious matter. Here is why:
This was a classic frivolous case, or at least, the damages claim was frivolous. But the real problem is that outlier suits like this — those wacko ones that we read in the press — are then used to argue for tort "reform." It has long been the strategy of those that wish to dismantle the civil justice system by using such outliers to deprive justice to those with meritorious claims.
Previously:
Pants Lawsuit Ends in Victory for Dry Cleaners (6/25/07)
Trial Lawyer Group Makes Ethics Charge In Dry Cleaning Case (5/9/07)
All Hemmed Up Over My Pants Rant (Kia Franklin @ Tort Deform (6/19/07)