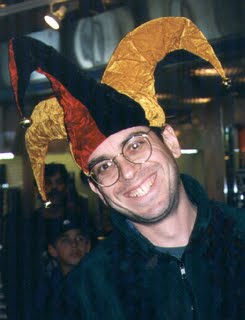 Just when I thought I'd put the April Fool's fun behind me — and started to plot next year's prank — comes this little nugget:

April Fool's Day Isn't For Everybody: Once again, Ethics Alarms will declare that it is irresponsible for anyone not pictured on his or her blog wearing a clown nose to put out false facts "just for fun" … yes, even on April 1.
Who the heck is this blogger and why is he such a killjoy? And more importantly, does his argument have even a grain of merit?
The blog is Ethics Alarms and appears to be the work of Jack Marshall, who claims to run an ethics consulting firm in Alexandria, VA and mixes seminars with music and theatre. Marshall, it seems, had me in mind for his posting. The giveaway was that he used my name. Let's explore the post further:
Eric Turkewitz, a New York lawyer, has an astounding post on his blog ridiculing the New York Times ( as well as some blogs and websites) for believing and reporting his fake announcement that he had been appointed the official White House law blogger.
Well, I'm flattered he thought it was astounding. But there was no ridicule for blogs and websites (plural); only for the New York Times. And the ridicule was earned because the paper failed to do a simple fact check of its story. They didn't even bother to call me until hours after it was posted, when they realized they'd been had. While the WSJ reporter was initially taken in by the joke, he didn't write about the hoax until after he'd phoned both me and the White House. He did his job.
But let's cut to the ethics part because, while I understand that some don't like April Fool's jokes, the issue of ethics is more important than the issue of whether such pranks are your cup of tea:
…lawyers like Turkewitz are forbidden by their ethics rules (Rule 8.4, to be exact) from engaging in intentional misrepresentation or dishonesty, and there is no April Fool's Day exception. The Times and other trusted Turkewitz to behave professionally and ethically, and he did not; and he is criticizing them? Web hoaxes are unethical, always, every day of the week, and web hoaxes perpetrated by lawyers are professional misconduct,
Rule 8.4? OK, let's run that one down. Rule 8.4(c) states that "A lawyer or lawfirm shall not…engage in conduct involving dishonesty, fraud, deceit or misrepresentation."
Marshall claims that there is no exception for humor. I disagree. More importantly, I believe that the courts will stand behind me. And that is based on the recent legal battle over New York's 2007 amendments to our attorney ethics rules in Alexander v Cahill. As it happens, I've written plenty of posts about this ongoing legal struggle over what can, and cannot be used in legal advertising.
And one of the things that the court had to decide was whether deliberate misrepresentations by a lawfirm were ethical when done with humor to make a point.
In Alexander v. Cahill, the State of New York took aim at the ads of Alexander & Catalano, as they claimed, among other things:
Lawyers being retained by aliens;
Lawyers having the ability to leap tall buildings in a single bound;
Lawyers stomping around downtown Syracuse, Godzilla-style.
The State Attorney General claimed the ads were unethical because they were literally false. They actually made this argument (not on April 1st) and you can read the State's brief if you want. (My tax dollars at work, thank you very much.)
But the ads were upheld by the District Court when the rules were found unconstitutional, and more importantly, upheld again by the Second Circuit when it likewise found the rules unconstitutional. It was all about First Amendment protections of free speech.
The Second Circuit wrote that the use of humor was not only OK, even if a false portrayal took place, but that it might actually be beneficial in some circumstances:
Moreover, the sorts of gimmicks that this rule appears designed to reach — such as Alexander & Catalano's wisps of smoke, blue electrical currents, and special effects — do not actually seem likely to mislead. It is true that Alexander and his partner are not giants towering above local buildings; they cannot run to a client's house so quickly that they appear as blurs; and they do not actually provide legal assistance to space aliens. But given the prevalence of these and other kinds of special effects in advertising and entertainment, we cannot seriously believe — purely as a matter of "common sense" — that ordinary individuals are likely to be misled into thinking that these advertisements depict true characteristics. Indeed, some of these gimmicks, while seemingly irrelevant, may actually serve "important communicative functions: [they] attract[] the attention of the audience to the advertiser's message, and [they] may also serve to impart information directly."
So now we turn to blogs. Would a court rule that blogs such as this one are an advertisement to gain clients, or non-commercial speech? In our analysis, it wouldn't matter. Though restrictions on speech are greater for commercial speech than non-commercial, the use of humor (even with false depictions) has already been upheld in the stricter (commercial) setting. An April Fool's prank that can be immediately debunked with a single phone call or email is not one that could hold up for more than a day and not one that could be taken seriously.
Moving one step further along, though it really isn't necessary, the April Fool's hoax has a role in social commentary in that it was designed to root out people that act on a serious news story without fact checking. I wasn't expecting The Times to fall for it, of course, but I did think that others would and that there was a good point to be made about people rushing to fall for stories, even on a day when they should be on the lookout for such things.
Thus, Rule 8.4 cannot be read in a vacuum. The claim by Marshall that "there is no April Fool's Day exception" would seem to be pretty clearly wrong. There is an exception, and it's called the First Amendment.
So, leaving aside the easy responses one might have to those that would criticize an April Fool's prank such as the one I pulled with my co-conspirators, it would seem that, on the law, the First Amendment rules the day.
And the rules also wouldn't apply here because the hoax wasn't pulled in conjunction with the representation of any client. Thus, if you make the April Fool's joke an ethical violation, then so too are misrepresentations surrounding surprise parties, Santa Claus and The Tooth Fairy.
Two final notes: First, the jester in the photo is me, circa 1995. Sorry I couldn't find a photo with a clown nose. Second, same time next year?
(No clients were hurt in the perpetration of this hoax.)