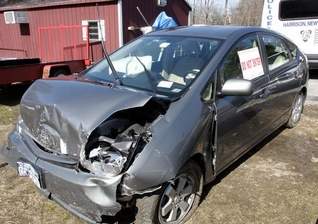 It's just a snippet from the local paper, but there it is: In an accident in Harrison, New York that resulted from an allegedly stuck accelerator in a Prius, Toyota is trying to keep the "black box" data from local police.
Many people don't know this, but many of the cars on our streets today have a "black box" similar to those that exist on planes. They don't reveal our conversations the way the airplane versions do, of course, but they provide a wealth of data to investigators in determining what happened in the moments before a crash.
The car at issue here, which has garnered national attention, was being driven by a housekeeper to a Toyota dealership due the national attention over problems with the cars.
The money quote from the story is this:
[Acting Police Chief] Marraccini said his department sought help from Toyota in accessing information in the car's black box that would reveal what was going on with the car just before the crash. The company declined, and Marraccini said police would try to obtain a federal subpoena to get the information.
A fight over the car seems to be brewing, with mighty Toyota up against a small town police chief:
Toyota Motor Corp. meanwhile let police know that it wanted to inspect the car, but Marraccini said "we are not prepared to release the car to them."
Whether the media attention is ultimately derived from driver errors (foot on wrong pedal), as Ted Frank theorizes, or is the result of real electrical or mechanical problems, will take investigative work. And that work entails looking at a car's data.
But with respect to this particular accident, it appears that the floor mats — the subject of prior recalls — was not an issue:
Marraccini said the crash was not caused by the floor mat trapping the accelerator, the culprit that forced a massive recall of Camrys and Priuses in recent months. The mat was already connected to the seat base with plastic ties, he said.
I find it more than a bit odd that Toyota is afraid to have independent investigators look at that data.
See also: Ex-Toyota lawyer says documents prove company hid damaging information (CNN)