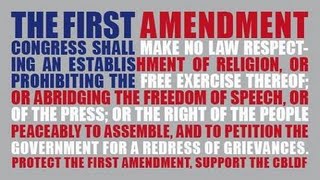 The case concerning the constitutionality of New York's attorney advertising rules was argued over a year ago. And Sonia Sotomayor was on the the panel. Now she has gone up and the decision has come down by the two remaining judges of the panel regarding the rules that went into effect on February 1, 2007.
And the 2nd Circuit has upheld the lower court decision in holding that most of the content-based rules violate the First Amendment. A separate section, regarding a 30-day anti-solicitation rule, was upheld both in the court below as well as in the 2nd Circuit.
The decision is here: /Alexander-v-Cahill-2ndCirc.pdf. The case was brought by Public Citizen on behalf of upstate firm Alexander & Catalano. (Addendum: NY Lawyer Rules Are Unconstitutional)


The new rules had barred, among other things, testimonials from clients relating to pending matters, portrayals of judges or fictitious law firms, attention-getting techniques unrelated to attorney competence, and trade names or nicknames that imply an ability to get results. I had previously criticized some of those rules on First Amendment grounds.
The lower court had dumped those rules. The only part of the lower court's decision that changes is the prohibition on portrayals of fictitious law firms, and that is just a minor modification.
These were the content based restrictions:
An advertisement shall not:

(1) include an endorsement of, or testimonial about, a lawyer or law firm from a client with respect to a matter that is still pending . . .
(3) include the portrayal of a judge, the portrayal of a fictitious law firm, the use of a fictitious name to refer to lawyers not associated together in a law firm, or otherwise imply that lawyers are associated in a law firm if that is not the case . . .
(5) rely on techniques to obtain attention that demonstrate a clear and intentional lack of relevance to the selection of counsel, including the portrayal of lawyers exhibiting characteristics clearly unrelated to legal competence . . .
(7) utilize a nickname, moniker, motto or trade name that implies an ability to obtain results in a matter.
Those rules, however, can result in some bizarre results if they were implemented. For instance, an attorney's photograph on a web site clearly has no relevance to the legal competence of the individual. So if it has no bearing on competence, is it prohibited? (See: Is My Family Photograph An Ethical Violation in New York? and New York's New Attorney Ad Rules and First Amendment Issues)
The catch-all prohibitions on false and misleading advertising remain in place.
Moving to the 30-day rule, of particular interest is that part of the decision regarding targeted Internet ads. Even before the plane crash in Buffalo last year, I had discussed the myriad ways that savvy marketers might try to circumvent the 30-day rules by targeting the victims with Internet ads and websites, instead of the more traditional types of ambulance chasing, in a post titled Solicitation 2.0. I followed up after the Buffalo crash showing how Google ads and websites were being used (this post has a round-up of numerous posts I did on the subject)
Anecdotal evidence that I collected showed that the 30-day rule was effective in curbing chasing.
So from the opinion comes this:
[W]e conclude that ads targeting certain accident victims that are sent by television, radio, newspapers, or the Internet are more similar to direct-mail solicitations, which can properly be prohibited within a limited time frame, than to "an untargeted letter mailed to society at large," which "involves no willful or knowing affront to or invasion of the tranquility of bereaved or injured individuals and simply does not cause the same kind of reputational harm to the profession" as direct mail solicitations.
…

New York's moratorium permits attorneys to advertise to the general public their expertise with personal injury or wrongful death claims. It thereby fosters reaching the accident victims, so long as these victims are not specifically targeted.
It's a big victory for the First Amendment. But with that will also come more lawyer tasteless ads that embarrass the profession.
hat tip: New York Law Journal
Updated: More coming in:
Lawyer Free Speech Given a Second Chance (Greenfield @ Simple Justice):
As much as I believe that flagrant marketing is distasteful and unprofessional, bad for the profession and part of our race for the bottom, that doesn't mean that I support legal restrictions or prohibitions. The former is bad. The latter is worse.
New York Advertising Rules Held Unconstitutional (Sorensen @ The Ethical Quandary):
So let's recap: William Shatner in a judge's robe? Allowed. Fifty foot lawyers terrorizing Midtown Manhattan? Allowed.

Jim "The Hammer" Shapiro apologizing that he cannot "rip out the hearts of those of have hurt you"? Ok that last one was a trick — already allowed: http://www.youtube.com/watch?v=Q5hn8bhEpMY — but good idea? Maybe that is the better question.