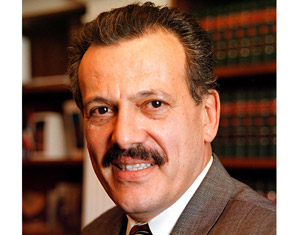 In a stunning rebuke to NYC's top lawyer, Michael Cardozo, 18 of the 20 justices that sit in the Appellate Division, First Department have taken him to the woodshed with a letter in the New York Law Journal coming out tomorrow (12/17/09). The response comes due to Cardozo's attack on the state's judiciary last week. Cardozo is now starting his third term as the city's Corporation Counsel.
The appellate court judges are responding to Cardozo's December 7th column on improving efficiency in the courts, a subject I wrote about a few days ago when both bench and bar came down on him hard in NYC's Top Lawyer Gets Reamed For Inefficiency (By Both Bench and Bar).
But now it is not simply one panel of judges ripping the city for its own inefficiency, or lawyers writing letters to the paper. Now the vast majority of the appellate bench that hears NYC cases has called Carozo's "imperious outpouring of advice" "insulting." They went on to write, led by Presiding Justice Luis Gonzalez (pictured), that:
"We feel compelled to respond to his misguided assertions, his misplaced blame and his attacks on the state trial judges…"
The First Department hears cases from the Manhattan and Bronx courts. And the Second Department, which sanctioned the city just last week in Byam v. City of New York for a decade of delay in providing discovery, handles Queens, Brooklyn and Staten Island (as well as other downstate counties).
You could almost see the smoke pouring off the keyboards of the judges as they wrote of Cardozo regarding changes in the use of 60-day reports that judges make to track cases:
In large measure, his facile proposals amount to an echo of reforms that are under way or have already been adopted by our former and current chief judges… Every one of these items has already been implemented by the Office of Court Administration, which on a constant basis compiles and circulates large amounts of information regarding judges' job performance.
The idea that current reports are being inaccurate implied, to the court, that some dishonesty was going on. The letter stated:
The idea that complaints must be filed with the Judicial Conduct Commission in order to ensure accuracy in 60-day reporting requirements baselessly implies that there is actually a problem with inaccuracy, an implication for which Mr. Cardozo provides no support.
After defending the trial judges against Cardozo's charges, the appellate judges lowered the hammer on him, placing the blame for much delay and inefficiency squarely at his feet (just as this letter Helene Blank and Marc Dittenhoefer did the other day):
In fact, it is ironic that the Corporation Counsel blames the courts for a failure to deal appropriately with litigation delays, since it is the office of Corporation Counsel of the City of New York that plays a significant role in causing those undue delays. For one thing, there is always a backlog of ready city cases in the dedicated city parts, and, with each part being assigned only two city attorneys, neither plaintiffs' attorneys nor the trial judges have the means to ensure that ready cases can proceed immediately to trial; the city alone wields that authority.

A vast amount of inefficiency impeding the resolution of litigation is also created by the city's oft-demonstrated cavalier attitude toward its discovery obligations. The city's almost routine failure to timely and fully cooperate with its discovery obligations, even in the face of repeated court orders, is regularly confronted by city part judges attempting to solve the city's intransigence (see e.g., Lewis v. City of New York, 17 Misc. 3d 559 [2007]).
What followed then was a litany of First Department cases in which the sanction of attorneys fees was imposed on the city as a result of its "inexcusably lax" responses to discovery orders.
And then a concession about city cases that all the personal injury attorneys in this town already knew, but had always been simply implied by the courts:
[A]s a rule, our courts give far more leeway to the city than we typically do to other defendants in civil actions.
Cardozo isn't having a very good holiday season. In fact, having so many judges angry at him, I'm thinking this will be his last holiday season in his office.
It's worth noting, however, that in an interview with the Law Journal that accompanied the letter (can't find link), Justice Gonzalez said the First Department's "track record of evenhandedness in our treatment of Mr. Cardozo's client, New York City," would continue despite the judges' criticism. He went on to say, "The bottom line is our judges are always mindful of our ethical responsibilities and our members have always dealt with Mr. Cardozo's client in a fair and even-handed manner and we will continue to do so."
The Corporation Counsel has 650 attorneys working for it, and handles a wide range of legal issues on behalf of the city. Background here on Cardozo as he prepared to start his third term.