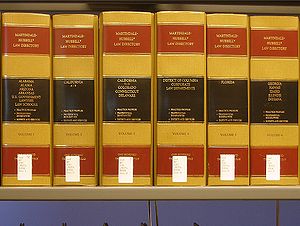 Martindale-Hubbell previously reported that it suspended a company that sent comment spam to blogs, of which mine was one. They also offered a full accounting of the episode.
Today they confirm that the spammer has not just been suspended, but that they "have subsequently stopped working with them." At my invitation, they have now given an accounting of the incident.
What follows is an email from Derek Benton, Director of International Operations at Martindale Hubbell International on the subject. My comments follow his email:
—————————–
"In late September, the UK Martindale-Hubbell team hired an agency to help us drive traffic back up on our co.uk. site. SEO was a core component of this program as a new directory structure for the site had caused significant issues with our organic rankings. It was our understanding that we would get to approve everything the agency did on our behalf, however unfortunately in this instance that did not take place. The agency we worked with, or an agent acting on their behalf, unfortunately posted some garbage comments without our knowledge.
We do not condone spamming under any circumstances, and once we discovered that these generic posts had gone out we immediately instructed the agency to halt all work on our behalf, and have subsequently stopped working with them. As we mentioned, we have also requested that the agency provide us with a list of all blogs affected so that they can be contacted individually.
Bottom line: we take this as seriously as you do. There's absolutely NO long term benefit to us from spamming sites. One way or another it's going to fail you in the end. We're here for the long haul, and are fully aware that there are no legitimate short cuts. We've learnt an important (and somewhat painful) lesson about working with 3rd parties, but we're confident that it's one that will help us in the long run, even if it stings a little right now."
—————————–
There are two interesting things about this episode. First, that Martindale-Hubbell says it is common practice to outsource attorney marketing to others, and second, that MH seems frantic after having been knocked off its #1 perch by upstart Avvo.com.
First to the outsourcing: In the Q&A that I did with Benton was this exchange about outsourcing their own work to British company called Conscious:
ET: After MH outsourced to Gilroy's company [Conscious], did Gilroy outsource it elsewhere?
DB: Yes he did. Outsourcing is a common practice to help reduce labour costs.
As I've intoned before, attorney ethics and marketing are deeply connected. So when marketing gets outsourced, so do ethics. But the acknowledgement by MH that it is "common practice" for the attorney search services to, in turn, subcontract out the marketing they were hired to do, means that attorneys hiring a marketing company essentially run the "common" risk of their ethics being outsourced to low-cost mystery marketers.
Is that where you want your ethics to go, to the lowest bidder in the SEO marketing world? Because that appears to me to be part of the "common practice."
It's also worth noting that the "experts" in the attorney marketing world include disbarred or inexperienced attorneys.
Who, exactly, can you trust, when even the largest of attorney search companies feels it's OK to send your ethics to the low bidder?

The second thing worth noting is the desperation of MH to reclaim its top spot in the attorney search arena as they worry about becoming an endangered species. Because there are beaucoup bucks to be mined from people that will — notwithstanding the risks of outsourcing their ethics to strangers hired on the cheap — ask others to advertise for them without understanding the ramifications.
If you hadn't noticed, Avvo appears to have surpassed MH's lawyers.com in the number of unique visitors they get each month. One of those two companies isn't happy about that.
Of course, if you look at Avvo's site, you'll see that it is missing the "attorney advertising" mark that New York says is mandatory for attorney web sites.
It's like the wild west out there.
——————-
Addendum 12/18/09 from Denton via email:
Eric – Thank you for giving us the opportunity to tell our side of the story. Unfortunately, in your accompanying commentary you asserted that "Martindale-Hubbell says it is common practice to outsource attorney marketing to others." That is not at all what we've said or done. The agency we hired was engaged to provide SEO services to our co.uk. site — not to fulfill any marketing services for lawyers.
My response: SEO and attorney marketing are interrelated.
Links to this post:
8 Predictions for Lawyers in 2010  

As we look forward into 2010, I see the pace of change for the legal world accelerating driven by the economy, technological improvements and lawyers becoming more entrepreneurial in response. My list below may sound very self-serving,

…

posted by Conrad Saam, Sr. Marketing Manager @ January 04, 2010 2:55 PM