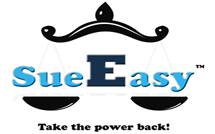 Last year I wrote about a start-up called "Sue Easy" that I branded as one of the worst lawyer ideas ever. And given the proliferation of attorney marketing sites out there, that was saying a lot.
But now it appears that the site is up for auction. I can only think of one reason to hold a public auction of a company like this, and that is that it was a miserable failure. One can only hope.
But not to worry. Surely many more people who want to make a buck by trolling for clients will try other avenues. And just as surely, some lawyers will follow those trolls without thinking that by outsourcing their marketing to others that they are outsourcing their ethics.
I get the sense when looking at my email (begging for links or spamming my comments with links), and seeing all the marketing folks out there on Twitter, that there are more people interested in marketing for cases than there are people willing to actually do the work. This is, of course, a skewed perspective from being a blogger and reading much of what goes on in the legal blogosphere. I've never seen any surveys on the subject, but I would guess that most lawyers don't even have a website. And with a million lawyers out there in the U.S., but only about 1-2,000 active blogs, I realize few are active online (at least in public).
But it is this vacuum that also allows the SueEasy's of the world to garner attention and tarnish whatever is still left of the good name of the legal profession, which I fear isn't much. So it is good to see them dry up and blow away. May the same now happen to WhoCanISue.com and any other crappola sites that are similar to them, whose sole reason for existence is to be a front company for others.
See also: Running SueEasy Turned Out to Be Not So Easy (Carolyn Elefant @ Blog Watch)
Links to this post:
"running sueeasy turned out to be not so easy"

the success of the controversial lawyer-client online matching service doesn't seem to have lived up to its organizers' high hopes, or so one might speculate from the site's being put up for sale by online auction.

…

posted by Walter Olson @ September 11, 2009 6:17 AM