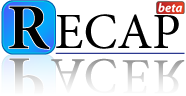 Update: See below…this policy has now been reversed.
Federal courts around the country are now sending out notices to litigants about the dangers of a computer program called RECAP, which if downloaded will automatically take documents that you purchase from the court's PACER system and place them into a free, publicly available database.
I wrote last week about the dangers of RECAP from a privacy perspective — with a vast, free, easily accessible data base of potentially private information. So if this is your first post on the subject you can get up to speed here: PACER Getting Easier for Thieves to Use via RECAP The Law.
Based on recent log posts from around the country, it now appears that at least three different federal courts have sent out alerts on the dangers of RECAP. The extent to which those dangers are legitimate, of course, has spurred discussion. Many think the courts simply want to preserve a revenue stream, as opposed to having bona fide security concerns. Some of those are linked below.
But before getting to those links, let me add a further explanation of my own concerns about privacy being violated by documents such as medical records being filed as part of routine motions. A medical record and a deposition transcript may be all a thief needs to steal an identity.
Federal rules prohibit filing personal information in FRCP 5.2. It's main provision states that:
Unless the court orders otherwise, in an electronic or paper filing with the court that contains an individual's social-security number, taxpayer-identification number, or birth date, the name of an individual known to be a minor, or a financial-account number, a party or nonparty making the filing may include only:

(1) the last four digits of the social-security number and taxpayer-identification number;

(2) the year of the individuals birth;

(3) the minors initials; and

(4) the last four digits of the financial-account number.
But how much attention is paid to the provision by practitioners? I know that when I take efforts to protect against this type of information being filed in state cases, I am often met with reactions of surprise. Most attorneys, it seems, aren't even aware of the potential problems of filing so much private information, or are simply turning a blind eye to the potential problem. Social Security numbers and dates of birth, for example, are always demanded by defendants in Bills of Particulars (which expound upon the Complaint) that are always filed with the court.
While I stopped furnishing that type of information years ago in this format due to identity theft concerns, most have not. It's critical, in my opinion, that the dangers of responding to such demands in publicly filed documents be broadcast loudly and often. Those who read blogs such as this and the ones listed below are light years ahead of most practicing attorneys.
The warnings from the courts take this format:
The court would like to make CM/ECF filers aware of certain security concerns relating to a software application or "plug-in" called RECAP, which was designed to enable the sharing of court documents on the Internet.

Once a user loads RECAP, documents that he or she subsequently accesses via PACER are automatically sent to a public Internet repository. Other RECAP/PACER users are then able to see whether documents are available from the Internet repository. At this time, RECAP does not appear to provide users with access to restricted or sealed documents.

Please be aware that RECAP is "open-source" software, which means it can be freely obtained by anyone with Internet access and could possibly be modified for benign or malicious purposes. This raises the possibility that the software could be used for facilitating unauthorized access to restricted or sealed documents. Accordingly, CM/ECF filers are reminded to be diligent about their computer security and document redaction practices to ensure that documents and sensitive information are not inadvertently shared or compromised.

The court and the Administrative Office of the U.S. Courts will continue to analyze the implications of RECAP or related-software and advise you of any ongoing or further concerns.
Paul Alan Levy (Public Citizen) discusses the above warning sent out to the Eastern District of Michigan:
In other words, the courts' experts have not been able to find any present security concerns, but they want users to worry that "open source" software is more vulnerable to malign modifications. Be afraid. Be VERY afraid.
Beck/Herrmann (Drug and Device Law) indicate the notice went out to the District of Nebraska.
Patrick @ Popehat says the warning went out to the Eastern District of North Carolina.
Techdirt has a couple dozen comments on the open source software part of the warnings.
That's three federal courts in very short order. Which is to say, expect an email from your own court very soon.
———————————————————————–
If anyone knows of more, send me the info in a comment or email me at: blog [at] TurkewitzLaw [dot] com and I'll update this post.
———————————————————————–
On 8/25/09 Paul Alan Levy posted an update. He has received word that the federal courts "have no problem with counsel using RECAP."
In comments, Beck/Herrmann reports the warning from the Western District of Pennsylvania.
Links to this post:
recap

if you spend any time on pacer, then you probably spend more money than you'd like while getting search results that you don't need. enter recap. recap allows you to to get some of pacer for free. though it isn't without its problems,

…

posted by David M. Gottlieb @ August 30, 2009 2:56 PM




RECAP

If you spend any time on PACER, then you probably spend more money than you'd like while getting search results that you don't need. Enter RECAP. RECAP allows you to to get some of PACER for free. Though it isn't without its problems,

…

posted by David M. Gottlieb, Esq. @ August 30, 2009 2:52 PM




privacy concerns raised about recap

okay, i am definitely late to the game on this one, but there has apparently been a lot of discussion and concern about the new recap system introduced by princeton university. because it costs 8 cents per page to download court

…

posted by Dissent @ August 27, 2009 12:08 PM




recap redux

i wrote yesterday about recap, an exciting project to collect documents from pacer and serve them up for free to the public, through a firefox extension. at about that same time, a small controversy over recap began brewing.

…

posted by The Complex Litigator @ August 26, 2009 2:52 AM