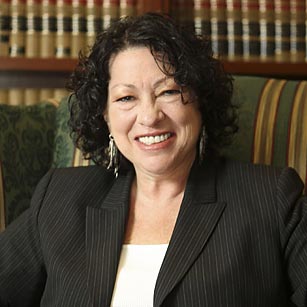 On June 4th Sonia Sotomayor released an extensive, completed questionnaire about her past to the Senate, and I picked up on the fact that her solo law firm "Sotomayor & Associates" didn't have any actual associates. This raised an ethical issue, albeit a small one, because it was misleading to the public. The private firm overlapped both her time in the District Attorney's office and her time with her next gig, Pavia & Harcourt.
And there my little post sat, relatively ignored. Until the Washington Times picked up on it in an editorial on June 20th. While I don't agree with their premise that it was indicative of larger issues, it was nice that they at least gave attribution to me for finding the item.
And now today the ethical issue of "Sotomayor & Associates" lands in the New York Times (Little Information Given About Solo Law Practice Run by Sotomayor in '80s.) The Times treats the story as original material to the paper, without giving attribution to others.
The Times has now expanded on the quick treatment that I gave it, and checked with the White House to get more details on the law firm. They found that:
The White House has described Ms. Sotomayor's outside legal work as an informal practice, one that never required her to file legal documents or appear in court. She never incorporated Sotomayor & Associates or registered it as a business in Manhattan or Brooklyn, where she then lived, according to public records, though she was not required to do so.
The Times goes on to quote old-reliable ethics commentator and NYU law prof Stephen Gillers (are there no other ethics attorneys to quote in New York?) as agreeing with me that this was a violation of the ethical rules in effect at the time:
Stephen Gillers, professor of legal ethics at New York University Law School, said Judge Sotomayor's use of the larger-sounding title was "inadvisable because it is inaccurate." He noted that bar associations frown on the use of the term "and associates" by single practitioners. "She could have just said, 'Law Offices of Sonia Sotomayor,' " he said.
[Note to Gillers: If Sotomayor wrote "Law Offices of Sonia Sotomayor" it would also be inaccurate. It would need to be singular, not plural.]
The White House, however, claims that no ethical violation occurred with the use of "& Associates" at a time when there were no actual associates. They responded:
"Neither bar opinions nor cases to date have held that it was misleading for a sole practitioner to use the name 'and Associates' in such private communications…In fact, in the early 1980s, no rule prohibited the use of 'and Associates' in these circumstances and the only authority regarding the use of 'and Associates' in an advertising context was advisory, not mandatory, and thus not readily enforceable."
Why did I bother with this minor issue to begin with? Because I sometimes write about the practice of law for small practitioners, about legal marketing and its problems, because the nominee fell into that zone of commentary, and because massive layoffs in the legal field were sending folks out on their own. It was meant as little more than a cautionary tale for those starting up their own practices to be careful about over-promoting themselves and running into trouble.
Now if we could turn to the ethics of the New York Times in using the stories of others without giving credit….
Update: I've added more regarding this at: Sotomayor Offers Lousy Defense To Ethics Charge Over Firm Name
Links to this post:
blawg review #220

welcome to blawg review #220, rounding up some highlights of the past week from around the legal blogosphere. it's my second time hosting it here at overlawyered, a blog that as its name implies maintains a certain critical distance

…

posted by Walter Olson @ July 13, 2009 3:40 AM




the lessons of sotomayor and associates

fittingly, it was a solo – eric turkewitz – who broke the story of supreme court nominee, sonya_sotomayor's foray into solo practice under the firm name, sotomayor and associates -impermissible name under new york ethics rules given

…




sotomayor "and associates"

when practicing a bit of law on the side during her time with the manhattan da's office and at a larger law firm, the nominee called her very small practice "sotomayor & associates" even though it had no lawyers but herself.

…

posted by Walter Olson @ July 08, 2009 7:20 AM




"Sotomayor & Associates" … meh, who cares?

Nothing has happened since May 26 to make me change my initial take on Pres. Obama's nomination of US Circuit Judge Sonia Sotomayor to fill Justice Souter's seat on the Supreme Court. (That take, in short, was this: Obama would never

…

posted by Beldar @ July 07, 2009 11:01 PM




sonia sotomayor "and associates"

[i've edited to make this tighter.] story here and here. eric turkewitz, a new york lawyer/blawger, broke the story. [then professor alberto bernabe, of the john marshall school of law, blogged about it.]

…

posted by John Steele @ July 07, 2009 2:48 PM




posted by Glenn Reynolds @ July 07, 2009 8:54 AM