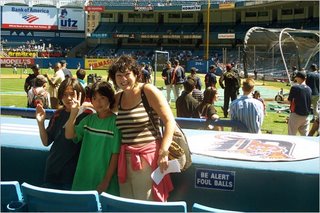 Sure, I know what you're thinking. That my question in the headline is silly, while everyone is probing every legal angle they can find on Supreme Court nominee Sonia Sotomayor. Every word she has uttered or written is being discussed and debated — while being cogitated, contemplated, ruminated and regurgitated in various hashings and re-hashings — all in the hopes of finding something controversial to be meaningfully exciting. And we haven't even had hearings. But you should know that my question isn't simply about whether this particular Yankee fan "saved baseball," or not. No, this is a question that must get asked because it will be asked whether we like it or not.
It will get asked, you see, because Oyez.org, which runs a super-serious Supreme Court website, understands as I do that there is a passionate interest in baseball at the Supreme Court. If you don't know about Oyez's multi-media Supreme Court web site and its baseball quiz, here is an intro:
The Oyez Project began in the friendly confines of Wrigley Field in the late 1980s as the Chicago Cubs continued to break the hearts of its many diehard fans. It was during one such game that the idea of creating a multimedia-based Supreme Court experience took root. The first iteration was a series of complex HyperCard stacks built on a baseball-card metaphor. The "Hitchhiker's Guide to the U.S. Supreme Court" demonstrated the power of multimedia integration with serious academic content. Many students worked on various versions before the development of a web-based application. The development of a web-based version of the project stems from the foresight of Richard Barone and Joe Germuska of Northwestern's then nascent Learning Technologies Group…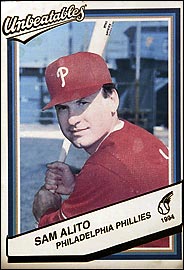 Oyez has a biography of every Supreme Court justice, and at the end of each bio they have a quiz, asking the reader to choose which baseball figure a particular justice is most like. For example, John Jay, the first Chief Justice, is compared with Kenesaw Mountain Landis, the first commissioner of baseball. Philly fan, and former fantasy camp player Sam Alito's bio is here and you can take your own peek to see how well you do with a modern day jurist.
Oyez gives this brief explanation of its quiz:
"The Law-Baseball Quiz" debuted in the New York Times on April 4, 1979. Created by law professor Robert M. Cover, it compared baseball players and Supreme Court Justices. Unlike Eddie Gaedel, the midget in baseball's most publicized stunt, the Quiz has delighted and stumped enthusiasts on many occasions since it first appeared…
So, given that SCOTUSblog guru Tom Goldstein opined that Sotomayor is a shoo-in, and that the only glimmer of controversy is whether she ever made judgments based on race, and this turns out to be a non-issue when her record is examined, we must turn to the burning question of the day: Which baseball figure will Sotomayor be compared with from the world of baseball?
And if you thought you would just Google "First Hispanic Baseball Player" and be done with it (Esteban Bellan, 1871, Troy Haymakers) don't be so quick on the trigger. For color barrier-breaker Thurgood Marshall was not compared with Jackie Robinson, but with Emmet Ashford, the first black umpire. Oyez makes you think. (Sandra Day O'Connor picked up the Robinson connection.) And there is also that background issue of whether Sotomayor even qualifies as the first Hispanic justice, given Benjamin Cardozo's Portuguese roots.
Which brings us to the penultimate Sotomayor question — since the dead horse beating rule has not yet been invoked on all things Sotomayor nor has anyone successfully jumped the shark here — will she be compared with an Hispanic player? A Puerto Rican player? A woman umpire? Or someone that isn't nearly so obvious? Let the guessing begin…
Sotomayor-Yankee photo find: Underneath Their Robes