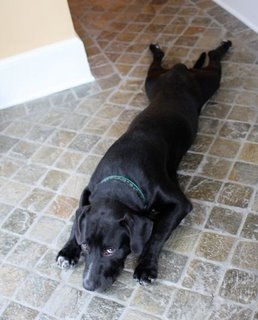 The New York Court of Appeals today tossed out a personal injury case premised on a violation of a local leash law. (Petrone v. Fernandez, June 9, 2009)
The dog in question here did nothing wrong. Rather, the defendant's rottweiler was lounging on the unfenced lawn of its owner and the plaintiff, a mail carrier, made a bee-line back to her car in panic. She broke her finger trying to leap through the window to safety. The dog never barked or attacked and returned to its owner when called.
Plaintiff wanted to prove negligence against the owner by virtue of the unleashed dog, as being unleashed was a violation of a local ordinance. But New York's high court tossed that out, since a suit based on personal injury from an animal rests solely in strict liability. The rule of strict liability is simple. It is premised on "harm caused by a domestic animal whose owner knows or should have known of the animal's vicious propensities." So sayeth the court.
And what of the leash law violation being evidence of negligence? Irrelevant. According to the court:
[D]efendant's violation of the local leash law is "irrelevant because such a violation is only some evidence of negligence, and negligence is no longer a basis for imposing liability"
The pictured pup, by the way, is our own. And he's very friendly. Unless you fear being licked to death.