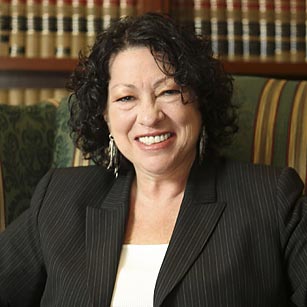 I was skimming the questionnaire of SCOTUS nominee Sandra Sotomayor to look back at her life in private practice. And I found this starting on page 143 of the Committee Questionnaire:
ii. whether you practiced alone, and if so, the addresses and dates;
Yes, with Sotomayor & Associates, 10 3rd Street, Brooklyn, New York 11231, from 1983 to 1986, but this work was as a consultant to family and friends in their real estate, business, and estate planning decisions. If their circumstances required more substantial legal representation, I referred the
matter to my firm, Pavia & Harcourt, or to others with appropriate expertise.
Now Sotomayor was a prosecutor up until 1984 and started in April of that year with Pavia & Hartcourt, according to the questionnaire. That means she had her private law firm, likely a home office based on her modest description of the practice, that overlapped both her prosecutor's position and her associate's position at Pavia & Hartcourte. So the question here is not whether she had permission to have that private firm, as I suspect she must have, but rather, why she called it "Sotomayor & Associates"?
Did she have any associates when she was advertising herself in that manner? My guess is no, given that this was a side business that she says was devoted to consulting for family and friends. And if she had no associates, then it is a no-no to tell the world that you do. That's misleading.
From the American Bar Association comes this all-inclusive statement that such conduct is prohibited in every state:
Are there any Associates (or "Law Groups") in the House?

There are several state bar opinions that address a lawyer's use of terms in a firm name that carry with them the implication that there is more than one lawyer in the firm. Examples of such terms include "X and associates" or "The X law group". Citations to these opinions, along with digests of them as they appear in the ABA/BNA Lawyers' Manual on Professional Conduct follow.

All State bar opinions are in agreement that a lawyer may not use the term, "and Associates" if there are in fact no associates in the firm. See, South Carolina Opinion 05-19 (2005) (A lawyer seeking to open a governmental affairs and lobbying firm consisting of the lawyer and two nonlawyer employees may not name the firm "John Doe and Associates, P.A." The name violates Rules 7.1 and 7.5(a) because it misleadingly implies that the firm has more than one lawyer.), Ohio Opinion 95-1 (1995) (A lawyer who is in solo practice may not use the phrase "and Associates" in the firm name to indicate that the lawyer shares space with other lawyers, acts as co-counsel with other lawyers, or has non-lawyer employees. A lawyer who is the sole shareholder in a professional corporation may not use the phrase "and Associates" in the firm name when the lawyer in fact has no employees.)
In New York, the conduct would fall under DR 2-102, which bars misleading advertising on a letterhead. [See Comment 2] If in fact Sotomayor had no associates at her firm, it would appear she overstepped the bounds of self-promotion by making her firm seem bigger than it was.
Now I am well aware that there are a whole lot more serious ethical violations that take place. But I do my fair share of writing on the subject of advertising and self-promotion when it comes to practicing lawyers, and it wouldn't be fair to others to give Sotomayor a free pass on the subject.
Previous Sotomayor posts here:
Update: I Googled the law firm name with this query: "Sotomayor & Associates" Sonia. I did not find any discussion of Judge Sotomayor's private practice under that firm name.
Update 2:
Links to this post: