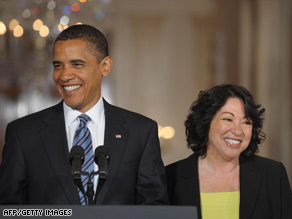 The comments were buried deep in an article in today's New York Times on the process by which President Obama nominated Judge Sonia Sotomayor for the Supreme Court. Obama, it seems, did the unheard of practice of calling every member of the Senate Judiciary Committee seeking their input.
While the Constitution requires (Article II, Section 2, paragraph 2) the advice and consent of the Senate for Supreme Court justices, stating that the President:
…shall nominate, and by and with the Advice and Consent of the Senate, shall appoint Ambassadors, other public Ministers and Consuls, Judges of the supreme Court…
the reality is that Presidents, at least in recent memory, ignore the advice part and simply ask for consent. Presidents are funny that way.
According to Republican Senator Charles Grassley, however, in his 29 years on the Judiciary Committee Obama is the first President to call and actually seek that advice. From the article, with my emphasis:
As he narrowed his choices, aides said, Mr. Obama kept asking for more original writings by the candidates, and he called every member of the Judiciary Committee, something few if any presidents have done.

In his conversations with senators, Mr. Obama did not let on whom he was thinking about, but described what kind of nominee he was looking for and asked for names. "I don't think he saw the process as him saying, 'Which of these five people would you oppose or support,' " said Senator Patrick J. Leahy of Vermont, the Judiciary Committee chairman.

"He asked if I had any suggestions for nominees," said Senator Charles E. Grassley, Republican of Iowa, a member of the committee for 29 years. "This is the first time I've ever been called by a president on a Supreme Court nomination, be it a Republican or a Democrat."
A President that actually cares about the Constitution. What a concept.
Links to this post:
blawg review #214

had enough of the credit-crunch? this is an edition of blawg review for those who say… "when the credit-crunch gets tough… the credit-crunched get crunched with smokedo… and blog." it is not x rated, it is office safe; the geeklawyer

…

posted by charonqc @ May 31, 2009 2:03 PM