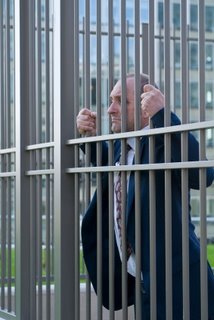 Wow. You just don't see this everyday. Attorney Kenneth Heller was representing someone who wanted to change lawyers. OK, that happens with some frequency.
But then he ignored successive court orders to release the file to incoming counsel, and Justice Howard Silver in the Bronx finally got disgusted and ordered him jailed for 30 days and fined $10,000 back in 2007.
Today, the First Department Affirmed that decision. Here it is:
Orders, Supreme Court, Bronx County (Howard R. Silver, J.), entered on or about January 26, 2007, March 9, 2007 and April 26, 2007, which, inter alia, held appellant, plaintiff's former attorney, in contempt for failing to turn over his file to plaintiff's successor attorney, authorized the seizure of the subject file, and sentenced appellant to 30 days in prison and a $10,000 fine, unanimously affirmed, with costs.

The finding of contempt and subsequent punishment and seizure order were warranted by appellant's disobedience of successive court orders unequivocally directing him to turn over his file to plaintiff's new attorney and the resulting prejudice to plaintiff's right to a new trial in this action for maritime wrongful death (10 AD3d 46 [2004]; Judiciary Law 753[A][1]; see Matter of McCain v Dinkins, 84 NY2d 216, 226 [1994]). We note that motions by appellant asserting a retaining lien and seeking payment of his fee and disbursements prior to his turning over the file were denied in orders that were not challenged in a timely and proper manner and constitute law of the case. We have considered and rejected appellant's other arguments.
Wowsa.
Update: Is this the same Kenneth Heller that was disbarred in 2004? How was he practicing law in 2007 if he was disbarred in 2004? The court wrote back then that, in addition to the charges before it, he had the following aggravating circumstances:
…respondent's 24-year history of sanctions, which includes a 1999 private admonition from the Committee, sanctions by courts on five occasions since 1984, and sharp criticism by courts on at least six other occasions since 1980; respondent's conduct during this disciplinary proceeding in ignoring evidentiary rulings, submitting evidence that had been ruled inadmissible by the Hearing Panel, and lacking candor in his testimony before the Referee; his persistent rationalizations in denial of his misconduct; and the lack of remorse or acknowledgment by respondent that his conduct was harmful and inappropriate.
A search of New York's directory of attorneys only finds one Kenneth Heller, and it indicates he was disbarred.
See:
Attorney Disbarred for History of 'Reprehensible' Conduct (6/29/04,

NYLJ

);


A 75-year-old attorney has been disbarred for what an appeals court described as a history of "reprehensible, unprofessional behavior" that included threatening judges, defying court orders and disrupting the legal process.

New York's Most Obnoxious Lawyer (4/10/07, V

illage Voice

)


With so many jerks working as attorneys in New York City, you'd think there would be no way to determine who's the single biggest pain in the ass. You could be wrong. The winner (or loser) is arguably Kenneth Heller.
Links to this post:
posted by @ January 29, 2009 4:58 PM