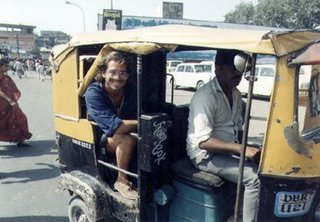 You know this blogging is a funny thing. You really can publish whatever you want and have it seen almost anywhere in the world.
So I've now been quoted in India. That's right, India. I've traveled there, as you can see from the 20-year old picture at left. And had a great time in a wonderful country. But I can honestly tell you I never expected my little blog on personal injury law to pop up in one of their papers.
And the quote comes in an editorial, of all things, in the highly-regarded Economic Times of India. (I just made that highly-regarded thing up, I didn't actually know squat about it until I looked on Wikipedia and found it to be the second largest financial paper in the world.) The editorial dealt with my legal analysis of the gripping story of First Pooch Barney taking a bite out of Reuters reporter Jon Decker. Somehow, though, they missed Barney's own account of the incident.
And so as I close out my second year of blogging, I would like to welcome all those readers from India who have an interest in New York personal injury law. Both of you. And don't forget to add me to your RSS feed.