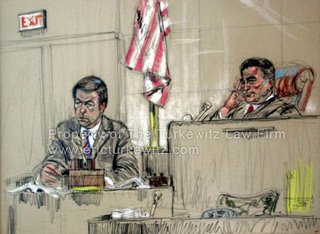 New York elects judges, and when judges are up for election, where to do they get their contributions from? That's right. Lawyers. Lawyers that often appear before them. The judicial candidates are forbidden from asking who gave what. But the information is available to the public on the internet.
Mark Lagerkvist at Judicial Reports has a piece tomorrow on this subject and the problems inherent in such a system (The System is the Crime). The piece focuses on the contributions from the well-regarded Albany firm of Powers and Santola, a firm that does what I do, plaintiffs personal injury and medical malpractice.
And the article is well worth the read because John Powers, a former President of the New York State Trial Lawyers Association, acknowledges the problems inherent in the system as he also discusses his firm's contributions of $10,000 and more to various judges before whom the firm practices.
When election day comes, as it is now, my local train station is always chock fully of politicians showing their faces and talking to people. Judicial candidates make regular appearances. And that is one thing I was never comfortable with; politicking judges.
While judges can never be above politics — and anyone who watches a Supreme Court confirmation proceeding can see that — the idea of asking for votes doesn't seem to be an improvement over the appointment process. It debases the judiciary and, I think, leaves a taste in the public eye that the judges are little more than politicians.
I'd like to see nominations by the executive and confirmations by a super-majority of the legislature (or legislative committee). That would protect everyone against radicals appearing from the wings of either party. It seems to be the safest way to get protect the public. And the judiciary.
==================
Note on courtroom sketch – That is Judge John Sirica with H.E. Haldeman on the witness stand. The original hangs in my office.