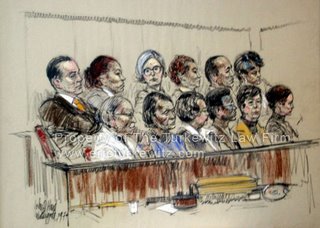 Senator Ted Stevens of Alaska was just convicted of seven corruption charges. So when I suggested the other day about a deadlocked jury possibly leading to an acquittal, or at least a compromised verdict, I was wrong.
There was one juror that was having "violent outbursts" that I assumed was going to cause great problems. (And there was another juror that went home due to family problems.)
Will we get to find out what happened with respect to the two above jurors? Not right now. According to the judge:
The jurors have unanimously told me that no one has any desire to speak to any member of the media. They have asked to go home and they are en route home.
Of course, that often changes.