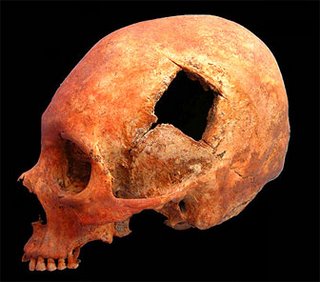 Talk about weird. Down in Galveston, Texas a man had a piece of his skull removed due to brain swelling after a stroke. He was supposed to have it put back after the swelling went down. But, as you may have guessed from the headline here, the hospital lost that part of his skull. That's not supposed to happen.
And it doesn't seem to be a small piece of skull that got lost. This was an eight inch by four inch piece. That's a lot of head bone, as one of my kids might say. Three times he was scheduled for surgery and three times it was cancelled before hospital officials finally admitted they couldn't find the piece of skull that should have been sent to the bone bank. Instead, he had to have titanium mesh implanted.
Suit was filed yesterday against the University of Texas Medical Branch on behalf of 53-year-old Marvin Simmons. Interestingly, plaintiff's counsel Tony Buzbee wrote in the suit, "This is not a case for medical malpractice."
Why go out of your way to say it wasn't malpractice but just plain vanilla negligence? My guess is the 2003 tort "reform" in Texas that provides protection for doctors and hospitals for any non-economic verdict over $250,000 for each of them, forcing the victims of malpractice to bear the burden of serious injuries themselves. So given a case that might be malpractice or might be negligence, depending on how the bone was lost, the attorney opts out of the malpractice choice in the suit.
Since I don't practice in Texas, I can't comment on that choice. Brooks Schuelke down in Austin would be better on that part. But if it happened in New York, I would plead the case both ways and decide after discovery how to proceed.
Update: Here is a copy of the Complaint: Simmons-v-UTMB.pdf