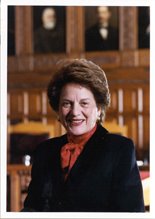 I just came back from the courtroom where the matter of Judith Kaye (NYS Chief Judge) against Sheldon Silver (Speaker of Assembly) is being argued. This is the judicial pay raise suit that is, perhaps, the most unique suit ever filed in the state. The Assembly leader, Senate leader and Governor were all sued by Chief Judge Kaye in her capacity as head of the judiciary. (See: New York's Chief Judge Kaye Finally Brings Suit for Judicial Pay Raises)
Supreme Court Justice Edward H. Lehner was taking the arguments on summary judgment motions, just minutes after I had argued one of my own cases. So I stuck around. I listened for over an hour before having to bail out. And it looks like it could go all day.
The Chief Judge has created a thicket of issues by suing the Assembly, Senate and Governor, with the case being heard by the judiciary. Justice Lehner noted at the outset that he stands to benefit from a raise if he were to order it.
With about a dozen lawyers and assistants involved in the well of the courtroom or sitting in the gallery, it was at the outset hard to tell the lawyers without a scorecard. Numbers and names on the back of suits would have helped.
Peering out over his reading glasses from his dark wood paneled courtroom at 60 Centre Street — and using the same demeanor he used to discuss whether a fall on wire on a floor was a slip or a trip, at issue on the case preceding this — Justice Lehner delved into the legal morass of what he called "the most novel case of my court career." (Complaint)
Here is a sampling of the issues presented, just during the time I was there:
Is state Supreme Court the proper place for the case, or does it belong in the Court of Claims? (I hit this issue the day after suit was brought: Did New York's Chief Judge Sue State in the Wrong Court? ) Counsel for the legislature says this is a salary dispute that belongs in the Court of Claims while the Chief Judge argues that the money is ancillary to the constitutional issues that have been raised and that constitutional issues belong in Supreme Court.
Next up, Justice Lehner wanted to know what, exactly the co-plaintiff "New York State Unified Court System" was, as opposed to the Office of Court Administration, and whether or not a "system" was a proper plaintiff in this action. Who, he wanted to know, actually employs the judges? Is this an agency, a department, a legal entity of some kind that can bring a suit with Chief Justice Kaye? That answer came definitively from the attorney for the OCA, who asserted it was an independent institution of government established by the constitution. And while it has been a party before, both as plaintiff and defendant, no one, it seems, had yet raised the issue of whether it was proper as an entity as a party.
The third issue, and we are still a long ways from the actual merits of the case, was whether Chief Justice Kaye was suing solely in her representative capacity of the judiciary, or in an individual one also. Defendants had raised objections to her acting as a representative. Wouldn't this issue be resolved, the judge wanted to know, if we just amended the caption to make her an individual plaintiff also? That would raise the question — and this wasn't mentioned in the oral argument — about what happens if this thing doesn't settle and the case goes up to the Court of Appeals? Can Chief Judge Kaye hear her own case? While the instinct is to say "of course not," the fact is that every judge that touches this case will be impacted the same way. Even though she is plaintiff, this is really a class-action type of case in which the entire judiciary is affected.
Next in the dock, Justice Lehner wanted to know the ramifications of the Governor threatening a veto of pay raise legislation if the legislature didn't also vote for campaign finance reform. He was looking for a moral response devoid of legalisms, but alas, lawyers being lawyers, defense counsel couldn't say, "Of course that's wrong! But the remedy is at the ballot box," which any sane person would have said because it's pretty obvious.
Finally, now 45 minutes into argument, the real issues started to get touched upon, as Justice Lehner asked, "Why are we here?" The fundamental problem is that the legislature and executive branches are linking the judicial pay raise to other issues, principally a legislative pay raise. But Judge Lehner, in another case (Larabee v. Governor), had already rules that unconstitutional. Defense counsel wanted him to reverse himself, which the judge obviously couldn't do since that other case was not before the court at the moment. But it didn't stop them from trying.
It's at this point, when they start to get to the merits that Chief Judge Kaye's counsel, Bernard Nussbaum of Wachtell Lipton, starts to get particularly impassioned and animated, his arms flailing this way and that while he speaks, to the point I thought he was going to inadvertently smack one of the other lawyers. (Since his legal credits include representing Bill Clinton, I don't think my characterization will hurt him any.) Watching what lawyers do with their hands and arms while in the middle of a high-pressure argument can be fun. One lawyer kept his nervously twitching hands locked behind him while he spoke (and spoke well, I might add) while another kept them folded calmly over his belly. OK, I'm digressing, back to the action…
Nussbaum goes on to argue about discrimination of the judiciary, which is the heart and soul of his case. Judge Lehner suggests that if he wins on just one of his issues, that will be enough, but Nussbaum wisely asserts he wants all issues decided in case the Appellate Division or Court of Appeals (chief Judge Kaye, presiding) should toss out the one he wins on.
Then it was on into politics and Albany's legendary "three men in a room" that basically decide everything that happens in our dysfunctional capital. One of those three men, the judge notes, is changing as we argue (Joe Bruno, Senate Majority Leader, will resign his office tomorrow.) Everyone, Nussbaum argues, is up to their ears in the linkage issue. And on they go to discuss bills that get authored with no intent of passage, and the linkage of judicial salaries to legislative one, and the judiciary being held hostage and not being independent.
From there the court goes on to arguments of the speech and debate clause of the constitution, and whether that immunizes the comments about linkage that were made. The defendants say these comments can't be the basis of a lawsuit. Plaintiffs assert that this is a constitutional issue of protecting the weakest branch of government.
Folks, that was just the first hour and 15 minutes. Nussbaum showed up with a few large bags of giant charts and an easel for display (Our easels aren't good enough, Justice Lehner wanted to know?)
One last thought as I left the courtroom. A spectacular amount of legal work is going into the suit by Wachtell Lipton on behalf of the Chief Judge in her representative capacity. That work is being done for free. It seems to me that this represents a very substantial gift to the judiciary (See: Wachtell and Judicial Ethical Violations in New York's Judicial Pay Raise Suit?) While I support the judicial pay raises — they are badly needed — the idea that a private firm would make such a huge gift leaves me scratching my head in wonder both that the gift was made and that the gift was accepted. The value of the services must easily exceed a million dollars at Wachtell's billing rate. Every judge in the state is represented by Wachtell. How, I wonder, can any judge sit fairly on a Wachtell case if this firm is also representing the judge?
More: