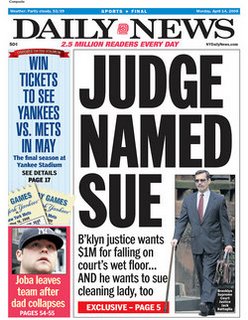 I don't really get the newspaper biz sometimes. I saw the front page headline in the Daily News as I passed through the train station yesterday, and read the story online here. New York Supreme Court Justice Jack Battaglia slips and falls on a floor in his courtroom because it was left wet and soapy by a janitor. Water on the floor is hard to see. He busts up his knee. It seems, in all respects, to be a run-of-the-mill lawsuit.
He then sues for a million dollars. Well, not really, but that is an archaic quirk in New York law. Litigants have actually been prohibited since 2003 from putting a number in the Complaint, as I've discussed previously. But because this is an action against the City of New York, a litigant is required to file a Notice of Claim within 90 days and is required to put a number in the claim. Dumb rule. How many people know how bad a knee injury will be within 90 days? Will they need surgery or will conservative treatment work? Three surgeries? Will there be pain and a limp forevermore? The answers are generally unknowable at the time a claim must be filed.
But you are required by law to put a number in the Notice. And so any lawyer with functioning neurons knows you are forced to assume, by law, a worst case scenario. Because if you state that fair and reasonable compensation would be $100,000, and it turns out much worse, then you might be, as we say in legalese, shit out of luck.
Last year the New York legislature took another step in abolishing this rule with regard to suits in the Court of Claims, where suits against the state are brought. (See: New York Cleans Up Claims Act). The ad damnum thus went to the scrap heap for cases against the State, as they had for everything else.
It's time the legislature took the next step and dumped the rule for Notices of Claim against the City of New York. It serves no useful purpose. If the city wants to know what a litigant feels is the fair value of a matter, they can easily pick up the phone and call, or ask for it in writing, but requiring it by law is dumb, dumb, dumb.
As to the Daily News article, the writer calls it "the mother of all slip-and-fall cases." Well, no, pretty routine actually. They call the judge "politically connected." Do you know any that aren't?
[Update: No suit has been brought, just a Notice of Claim filed. The purpose of which is to give the city prompt notice allow it to investigate the matter. So no, the janitor has not been sued, but has been partially identified. Which allows the city to investigate the claim. Which is kinda the whole idea.]
Should he not sit on city cases? Good question. Since there are plenty of judges in the courthouse, avoiding the appearance of impropriety is probably a good thing here.
But a much better question is: Why hasn't there been any similar question about Wacthell Lipton representing the judiciary in the judge's lawsuit for pay raises, and the ramifications of them appearing in front of judges whose interests they represent? Now that is a front page story. Yet I seem to be the only one to have covered it.