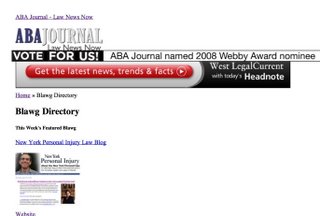 Who'd a thunk it? It was just five months ago that I let loose against the ABA for leaving all personal injury blogs out of their ABAJournal Blawg 100 (see: Vote For Me In Blawg 100!! (Oh Wait, You Can't)). And today I learn that my blog has popped up as their Blawg of the Week.
When the ABAJournal re-invented its web site last July, I welcomed their redesign with "terrific news feeds" and "a great new compendium of blawgs." It was clear they had done their homework. (See: Welcome New and Improved ABA Journal)
This being the ABA though, I was a bit concerned that its focus would be waaay too much on BigLaw, and not enough on the small and solo firms that make up the vast majority of America's law firms and that do much of the grunt work. I even wrote last summer:
The new ABAJournal also has a featured blawg each week. Let's hope they don't just focus on the big name A-listers from the ivory towers and appellate world, and present the occasional up-and-comers from the "Practical Blawgosphere" that are out there in the courthouses on a day-to-day basis.
So while I was disappointed that the entire personal injury bar, both plaintiffs and defendants, was left in the dust of its vaunted 100, it's obviously refreshing to see that, perhaps, things can change.
And yes, I did make sure to copy the page, under the theory that this was just a screw-up or practical joke and it disappears tomorrow.
A final note for new visitors: If you'd like to see some of the greatest hits of the blog, click that link. And feel free to add it to your RSS feed. No extra charge.