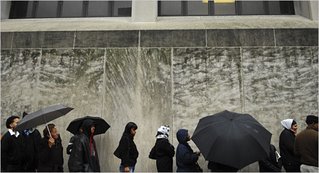 I've had the misfortune of appearing in the Bronx County Family Court a few times in the past. And I've almost blogged about my experiences because they were so horrible.
And by horrible, I mean that the people who appear for family disputes and custody hearings can't even get into the courthouse and to the hearing rooms because of broken elevators. It can easily take two hours just to get to the hearing room. Then the hearings get adjourned until another date because everyone isn't present.
Today, the New York Times has a piece on this very problem, front page of the Metro section, above the fold.
Many law blogs discuss great principles of the law. But principles mean nothing if you can't get in the door to argue your case.
British Prime Minister William Goldstone once said, "Justice delayed, is justice denied." And nowhere is that more true than in the Bronx Family Court.