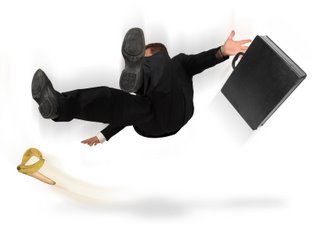 Some lawyers are dumb. I don't know how else to put it. And this particular pratfall has to be the fault of an attorney.
Last month I wrote of Progressive Insurance spying on a church group — and taping private support group discussions where people were confidentially bearing their souls — in order to obtain information on a claimant that was a member of the group.
After the Atlanta Journal Constitution busted this tactic on its pages, the CEO of Progressive apologized for the appalling conduct and said:
"When I read that story I was appalled and, frankly, didn't believe that it could possibly be accurate. I have since learned that the essential facts in the story are correct. What the investigators and Progressive people involved in that case did was wrong –period. I personally want to apologize to anyone who was affected by this incident."
So what happens now? According to yet another story in the AJC yesterday, Progressive is now defending a violation of privacy lawsuit that arose out of the spying on the confessionals, and now says its spying was reasonable. But this isn't because the defense lawyers are clueless and created the defense inadvertently. Progressive's spokesperson, according to the article, has defended the defense. That means, to me, that the idea either came from, or is being defended by, the general counsel to the company.
So when the CEO said it was wrong. Period. I guess he didn't really mean "period" as in we-have-no-excuse-or-justification-and-won't-even-try. Because now the conduct is reasonable.
Some folks, it seems, know the fine art of taking a bad situation and making it worse.
(hat tips: The Consumerist and Shigley)
Addendum: Perlumtter & Schuelke weigh in with frivolous defenses driving up litigation costs.
(Eric Turkewitz is a personal injury attorney in New York)
Links to this post:
November 26 roundup

All-automotive edition: Court won't unseal settlement arising from <05 million Aramark/Giants Stadium dramshop case for fear girl's father will try to get his hands on money [NJLJ, NorthJersey.com, Childs; earlier]

…

posted by @ November 26, 2007 12:02 AM




carnival of the capitalists #211

the editor of blawg review, who toils in anonymity with the help of tireless sherpa guides to the blogosphere, is proud to be hosting this week's edition of the longest-running blog carnival, the carnival of the capitalists.

…

posted by Editor @ October 22, 2007 12:01 AM




I'm sorry. No, I'm not.

New York Personal Injury Law Blog: Progressive Insurance Blunders Again: Some folks, it seems, know the fine art of taking a bad situation and making it worse.

posted by lilyhill @ October 18, 2007 12:00 AM