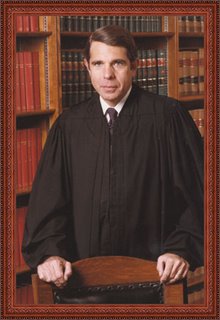 Sol Wachtler, formerly the Chief Judge of New York's highest court, has been readmitted to the New York bar. Wachtler, who had served in the Court of Appeals for 20 years, had plead guilty to threatening and harassing his former lover 14 years ago. I had covered his motion to be re-admitted on February 21st (Sol Wachtler Getting Law License Back?).
Amongst other transgressions that involved stalking and hiring a private detective and anonymous obscene messages so that she would turn to him for help, he also had threatened to kidnap her teenage daughter.
He served a 13 month jail sentence and wrote a book about his experiences in which he blamed an undiagnosed mental illness and prescription drugs for his problems.
In a a biography of Wachtler (King of the Mountain) by Albany Times Union editor John Caher, he writes of the former Chief Judge:
"Wachtler struck down the 'marital exemption' to rape. Prior to his court's decision, there was an exemption in the rape statute that essentially allowed a man to rape his wife, even a wife with whom he was estranged, with absolute impunity," Caher says.

"Wachtler declared the law unconstitutional and initiated a reform. Other Wachtler decisions broadened the human rights law to prohibit discrimination against obese people and provided women with a far stronger sword against gender bias. He wrote a passionate dissent when his court found nothing wrong with a prison guard openly displaying his affinity for the KKK. Long before it was socially acceptable to tolerate homosexuality, Wachtler publicly and gratefully accepted the endorsement of a gay rights group."
Coverage can be found here:

(Eric Turkewitz is a personal injury attorney in New York.)