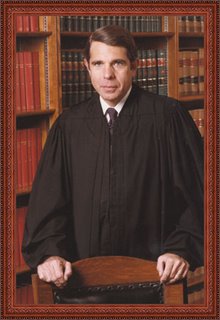 Former New York Chief Judge Sol Wachtler has moved closer to reclaiming his lost law license. From my local paper, The Journal News, a recap of the sordid affair and conviction that led to his stunning fall:
Former chief judge wins step toward getting law license back
The former chief judge of New York state's highest court who suffered a spectacular fall from grace after being arrested for stalking an ex-girlfriend has received preliminary approval to have his law license reinstated.

Sol Wachtler, who was disbarred after his 1993 conviction on federal charges including blackmail and extortion, has received approval from the state's Appellate Division for a hearing before the Committee on Character and Fitness, a key step toward reinstatement that was denied to him on his first application in April 2003.

Wachtler, now 76 years old, made international headlines after FBI agents arrested him near his home on Long Island on Nov. 7, 1992. Wachtler ultimately admitted he sent threatening and sexually offensive letters to Joy Silverman, a Manhattan woman with whom he had carried on an extramarital affair, then tried to extort money in a scheme to win her back after their relationship soured.